The Garden Party by Katherine Mansfield – Book Review
The Garden Party by Katherine Mansfield – Book Review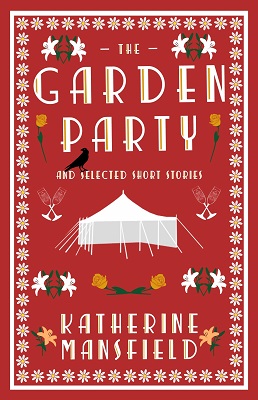 The Garden Party
and Collected Short Stories
Author – Katherine Mansfield
Publisher – Alma Classics
Pages – 480
Released – 28th June 2018
ISBN-13 – 978-1847497291
Format – ebook, paperback
Review by – Clive
Rating – 5 Stars
I received a free copy of this book.
This post contains affiliate links.


When her wealthy family prepares to host a lavish summer party, the young, hitherto sheltered Laura Sheridan suddenly feels a kinship with the staff and the helpers hired to set up the venue for the festivities. As she learns of the death of one of their working-class neighbours, this burgeoning sense of class consciousness is heightened by a realization of her own mortality.
Published in 1922, at the height of literary modernism, 'The Garden Party' is now considered one of the key texts of that movement. This volume, which also includes all of Katherine Mansfield's other published short stories, is an invaluable resource for anyone wishing to discover one of the early twentieth century's finest writers.
Contains: Prelude, Je ne parle pas français, Bliss, The Wind Blows, Psychology, Pictures, The Man without a Temperament, Mr Reginald Peacock's Day, Sun and Moon, Feuille d'album, A Dill Pickle, The Little Governess, Revelations, The Escape, The Garden Party, The Daughters of the Late Colonel, The Doll's House, The Fly, Germans at Meat, The Baron, The Sister of the Baroness, Frau Fischer, Frau Brechenmacher Attends a Wedding, The Modern Soul, At Lehmann's, The Luftbad, A Birthday, The Child-Who-Was-Tired, The Advanced Lady, The Swing of the Pendulum, A Blaze.

Katherine Mansfield's life story is almost as interesting as any of her literary works. Following a privileged upbringing in New Zealand she came to England at 19. Sadly she suffered from tuberculosis in her twenties and died at just 34. She married twice and spent much of her time travelling in Europe in search of a cure.
She specialised in short stories and this volume contains her most famous works drawn from previous published books: Bliss and Other Stories, The Garden Party and Other Stories, The Doves' Nest and Other Stories and In a German Pension. Many of the individual stories were previously published in magazines.
Mansfield wrote in what was described as the Modernist style with interesting characters and settings. Storylines are thin or non-existent with the strength of the writing coming from the atmosphere of descriptions and observations. Whether narrated in the first or third person everything is viewed personally, although the perspective may change without notice.
In almost every story Mansfield draws attention to social issues but seems to offer little in the way of practical solutions.
The opening story, Prelude is 43 pages long and a couple of other stories are just over 20 pages but most of these works are just five or six pages long. Regardless of length, they are all worth reading and I have listed some of my highlights below:
– Prelude and Doll's House. These stories both feature the Burnell family with much of the action viewed through the children's eyes. In Prelude we see how financial problems have affected a middle class family and we get an insight into how pivotal the male role was at that time. Doll's House is a classic story of how class attitudes affect children from a young age.
– Bliss is probably the best example of Mansfield's ability to bathe the reader in atmosphere with her dreamy description of the garden as Bertha and Miss Fulton shared a moment together.
Daughters of the Late Colonel was probably my favourite of the collection where two bereaved sisters are totally lost following the death of their demanding father. Having led sheltered lives, they appear incapable of making simple decisions and with very little social contact there appears little to look forward to. There are interesting comparisons to be made between them and the spinster Beryl in Prelude.
– The Swing of the Pendulum is a good example of how an incomplete plot can intrigue but also frustrate a short-story reader. The tale starts with Viola's landlady giving her notice of eviction through non-payment of rent, effective the following day. What will happen? Viola is penniless, where can she go, what can she do? We will never know because the story takes a totally different tack and ends an hour or so later.
If you are interested you can now read Katherine Mansfield's first published work His Little Friend, a short story under her real name of Katherine M Beauchamp. It was published in the children's page of The New Zealand Graphic and Ladies' Journal and thanks to Wellington Recollect we can view it at: https://wellington.recollect.co.nz/nodes/view/2515#idx3023.
Whether you are an aspiring novelist or just a lover of atmospheric writing I urge you to read The Garden Party and Selected Short Stories by Katherine Mansfield. I have awarded five stars.
Book Reviewer – Clive
---
Purchase online from:
---
About the Author
Kathleen Mansfield Murry (née Beauchamp) was a prominent New Zealand modernist writer of short fiction who wrote under the pen name of Katherine Mansfield.
---
What did you think of The Garden Party? Share your thoughts in the comment section below!
---
The above links are affiliate links. I receive a very small percentage from each item you purchase via these link, which is at no extra cost to you. If you are thinking about purchasing the book, please think about using one of the links. All money received goes back into the blog and helps to keep it running. Thank you.
Like us on Facebook – Tweet us on Twitter – Pin us on Pinterest