The Waffle House on the Pier by Tilly Tennant – Book Review
The Waffle House on the Pier by Tilly Tennant – Book Review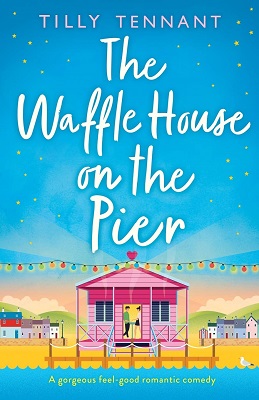 The Waffle House on the Pier
Author – Tilly Tennant
Publisher – Bookouture
Pages – 300
Released – 25th June 2020
ISBN-13 – 978-1838888183
Format – ebook, paperback
Review by – Stacey
Rating – 4 Stars
I received a free copy of this book.
This post contains affiliate links.


Run away to Sea Salt Bay, where the sand is warm and soft, the sea is a perfect blue, and a candy-coloured waffle house is about to change Sadie's life…
For as long as she can remember, Sadie's grandparents have run the waffle house on the pier at Sea Salt Bay. With its pretty painted chairs, sweet smells, and the warm advice of her beloved grandparents, the waffle house is like a second home.
But when Sadie's grandfather dies, leaving her grandmother without an anchor, Sadie must make a difficult decision. She quits her job and moves back home, determined to keep things going. The trouble is, she knows nothing about running a business, and learning at a million miles an hour with a shop full of hungry people isn't easy. When she nearly burns the waffle house down, she has to admit she needs to get some help.
Her ex-boyfriend Declan promises to be there for her but Sadie worries that getting too close is a mistake – especially as he has a new girlfriend now. And anyway she's just met newcomer Luke, with his gorgeous suntan and mellow voice…
Sadie's family have always loved Declan and they're not too sure about Luke, leaving Sadie unsure which way to turn. A terrible accident at sea forces her to look into her heart, but what if it's already too late to tell the right man that she loves him?

Sadie loves the little village she lives in, Sea Salt Bay, as it is by the sea and her close family all work on or but the water, but Sadie didn't want to follow in their footsteps, she wanted to make something of herself and went to university to become a teacher.
With her placements in school being harder than she thought it would be, she starts to have second thoughts about her career but doesn't want to quit, that is until her Grandfather suddenly dies, leaving her Grandmother to either run the Waffle House on the Pier they have run for decades alone or sell it.
Sadie decides to help out at the waffle house but she notices differences in her grandmother and she is worried. She also has to put up with her ex who she still loves wandering around town with his girlfriend, plus, there's a new man in town who literally bumps into her! But what does Sadie truly want out of life and for her future?
The Waffle House on the Pier is a feel-good story featuring a fabulous cast of characters who all work well together and are perfectly realistic. I love the idea of a waffle house. I've only ever seen one at Center Parcs, but the food sounds so delicious and had my mouth watering.
For me, it felt like the plot took a little time to get going, but that isn't to say it wasn't enjoyable, just a little slow at first, a long build-up to the main storyline.
There were a lot of family dramas as well as drama with a couple of males to deal with for Sadie and a tough decision or two to be made. I'm not always a fan of love triangles but it worked in this instance.
The book was a quick and easy read that had me smiling throughout. Another fabulous novel from Tilly Tennant.
Book Reviewer – Stacey
---
Purchase online from:
---
About the Author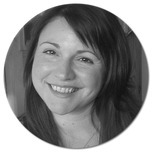 Tilly Tennant was born in Dorset, the oldest of four children, but now lives in Staffordshire with a family of her own. After years of dismal and disastrous jobs, including paper plate stacking, shop girl, newspaper promotions and waitressing (she never could carry a bowl of soup without spilling a bit), she decided to indulge her passion for the written word by embarking on a degree in English and creative writing. She wrote a novel in 2007 during her first summer break at university and has not stopped writing since. She also works as a freelance fiction editor, and considers herself very lucky that this enables her to read many wonderful books before the rest of the world gets them.
Hopelessly Devoted to Holden Finn was her debut novel; published in 2014 it was an Amazon bestseller in both the UK and Australia. In 2016 she signed to the hugely successful Bookouture and is currently working on her next Tilly Tennant novel. She also writes as Sharon Sant, where she explores the darker side of life, and Poppy Galbraith, where things get a little crazier.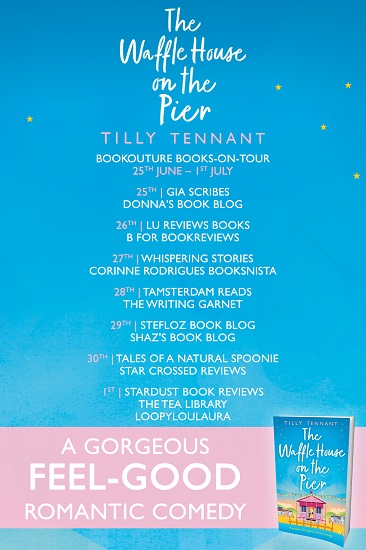 ---
What did you think of The Waffle House on the Pier? Share your thoughts in the comment section below!
---
The above links are affiliate links. I receive a very small percentage from each item you purchase via these link, which is at no extra cost to you. If you are thinking about purchasing the book, please think about using one of the links. All money received goes back into the blog and helps to keep it running. Thank you.
Like us on Facebook – Tweet us on Twitter – Pin us on Pinterest