What the Shadows Hide by M J Lee – Book Review
What the Shadows Hide by M J Lee – Book Review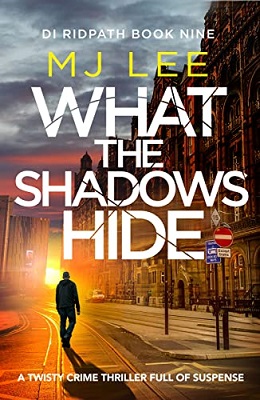 What the Shadows Hide
DI Ridpath Crime Thriller Book Nine
Author – M J Lee
Publisher – Canelo Crime
Release Date – 23rd March 2023
Pages – 382
ISBN 13 – 978-1800329324
Format – ebook, paperback
Star Rating – 5
I received a free copy of this book.
This post contains affiliate links.

Synopsis
To love and to cherish, till death did them part…
Two desiccated bodies are found in each other's arms in the bricked up room of a derelict Victorian warehouse. After six months of work, the police have nothing and Ridpath is finally called in to investigate. Dubbed the Romeo and Juliet murders by the press, so many questions remain unanswered.
Who are they? Why were they there? Who killed them? And why was the coroner so keen for him to work on this particular case?
Ridpath is plunged into his most difficult investigation yet, in a race against time to discover the truth. Has an unknown serial killer been operating in Manchester for the last twenty years?
DI Thomas Ridpath is back in his ninth outing. For those of you who don't know the books, DI Ridpath works for both the Coroners Office and MIT (Major incident Team) for Great Manchester Police.
In this latest instalment, Ridpath is given what seems like an impossible case by his boss at MIT. She wants him working a cold case that detectives have been trying to solve for the last 6 months. She knows Ridpath has some unorthodox ways of working and the case needs solving asap, in fact, he is given just one week to solve it.
6 Months ago two bodies were found in a warehouse set for demolition. They had been placed in a room, alive, which had then been bricked up and they were left to starve and dehydrate to death. In the last 6 months, nothing has been solved about the case, even who the two people were, all they know is that they are young adults, one male and one female.
Alongside this case, Ridpath is also working on another, though he has been warned not to, but this one is personal. Plus, there is a new temporary Coroner in town who likes things done to the letter of the law and every I dotted and T crossed. She does not like Ridpath's style of working.
What the Shadows Hide is a fast-paced police procedural novel featuring one of the most interesting and likable detectives I have read, DI Ridpath. He is quite hot-headed, very determined, and thinks outside the box, he works outside it too, which doesn't bode well with some.
The plot is gripping and I raced through it. I loved how complex the case was. Who kills by shutting their victims in a room with just one bottle of water between them and leaving them to die? Most killers want to see their victims die or the aftermath, but not this one.
What the Shadows Hide is thrilling and exciting. It makes you feel on edge at times and laugh at others, especially the humorous moments between Ridpath and his daughter Eve. I also love that we get to be inside the killer's head randomly throughout.
If you haven't read any books in this series (you are so missing out) I suggest you start at the beginning with Where the Truth Lies as to enjoy this series fully you need to understand Ridpath's attitude and you can only do that by starting with book one.
---
Purchase Online:
M J Lee

Martin (M J Lee) has spent most of his adult life writing in one form or another. As a University researcher in history, he wrote pages of notes on reams of obscure topics. As a social worker with Vietnamese refugees, he wrote memoranda. And, as the creative director of an advertising agency, he has written print and press ads, tv commercials, short films and innumerable backs of cornflake packets and hotel websites.
He has spent 25 years of his life working outside the North of England. In London, Hong Kong, Taipei, Singapore, Bangkok and Shanghai, winning awards from Cannes, One Show, D&AD, New York and London Festivals, and the United Nations.
When he's not writing, he splits his time between the UK and Asia, taking pleasure in playing with his daughter, researching his family history, practising downhill ironing, single-handedly solving the problem of the French wine lake and wishing he were George Clooney.
Author Links:
---
The above links are affiliate links. I receive a very small percentage from each item you purchase via these links, which is at no extra cost to you. If you are thinking about purchasing the book, please think about using one of the links. All money received goes back into the blog and helps to keep it running. Thank you.