Homicide Herault by Bluette Matthey – Book Review
Homicide Herault by Bluette Matthey – Book Review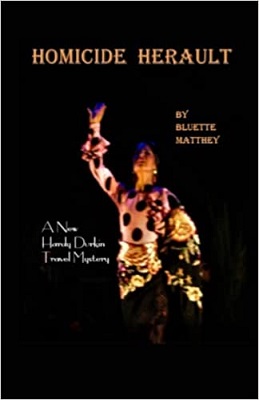 Homicide Herault
A Hardy Durkin Travel Mystery
Author – Bluette Matthey
Publisher – Blue Shutter Pub
Release Date – 26th December 2022
Pages – 265
ISBN 13 – 978-1941611227
Format – ebook, paperback
Star Rating – 4
I received a free copy of this book.
This post contains affiliate links.

Synopsis
Veteran trekker Hardy Durkin leads his first bike tour group to Béziers in the South of France, during its annual grand Feria, for what is expected to be relaxing, uneventful bicycling in the Hérault region. This notion is kicked to the curb when a double cold-case with present-day repercussions is discovered on one of the group's outings. Hardy becomes embroiled in another homicide when he is present at a murder that takes place during an innocent flamenco performance that is anything but.
The bottom line: murder and intrigue follow Hardy Durkin like a shadow, even in the sunny, laid-back South of France, but this time his wheel of fortune veers uncomfortably off the rails in Homicide Hérault.
Bluette Matthey certainly offers good value for money. In Homicide Hérault she gives us travel, history, espionage, a whodunit, some flamenco and a little romance. She also touches on Europe's current dilemma concerning migration and in particular cheap immigrant labour.
I can see that Bluette has published a number of books with Homicide Hérault being the last in her Hardy Durkin series of six travel mysteries. I've not yet read any of the previous volumes so I cannot comment on her knowledge of their locations but her detailed descriptions of Béziers, which is her current home town, really encouraged me to go there.
I also appreciated the information on the situation regarding Algeria's struggle for independence in the early 1960s which the author correctly covers from several viewpoints because, as history tells us, such transitions are rarely simple or smooth.
The story starts with a dramatic prologue followed by the jovial gathering of the cycling group. As suggested in the title things do not stay jolly for long as darker events take the story in multiple directions; generally with plenty of action.
As the lead character, Hardy Durkin excellently combines the efficient and friendly tour guide with, when necessary, the physique and knowledge of an amateur detective. Beyond Hardy we were given little detail of the numerous other characters. Indeed, at times I found I was getting a little confused with the number of people and agencies involved in the investigations.
One by one the various storylines are resolved but Bluette manages to end in a dramatic style. I have awarded Homicide Hérault four stars.
---
Purchase Online:
Bluette Matthey

Bluette Matthey is a 3rd generation Swiss-American and an avid lover of European cultures. She has decades of travel and writing experience. She is a keen reader of mysteries, especially those that immerse the reader in the history, inhabitants, culture, and cuisine of new places. Her passion for travel, except airports (where she keeps a mystery to pass the time), is shared by her husband, who owned a tour outfitter business in Europe.
Bluette particularly loves to explore regions that are not on the "15 days in Europe" itineraries. She also enjoys little-known discoveries, such as those in the London Walks, in well-known areas. She firmly believes that walking and hiking bring her closer to real life in any locale. Bluette maintains a list of hikes and pilgrimages throughout Europe for future exploration.
She lives in Beziers, France, with her husband and band of loving cats.
Bluette's protagonist, Hardy Durkin, appears in her Hardy Durkin Travel Mystery Series, which include Abruzzo Intrigue, Black Forest Reckoning, Corsican Justice, Dalmatian Traffick, Engadine Aerie, and her latest in the series, Homicide Herault.
In a departure from her European Travel mysteries, Bluette's novel, Two Murders Too Many, takes place in a small Ohio farming community during the Fifties, providing readers a sense of life, mysteries, and events in the USA during those nostalgic times.
Bluette has also created Potty Poche, a travel app for the South of France and, soon, Tuscany. Her many videos featuring Potty Poche locales can be viewed on her YouTube channel: Bluette Matthey51.
Author Links:
---
The above links are affiliate links. I receive a very small percentage from each item you purchase via these links, which is at no extra cost to you. If you are thinking about purchasing the book, please think about using one of the links. All money received goes back into the blog and helps to keep it running. Thank you.