The Girl in the Gallery by Alice Castle – Book Review
The Girl in the Gallery by Alice Castle – Book Review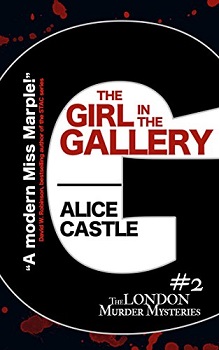 The Girl in the Gallery
The London Murder Mysteries Book Two
Author – Alice Castle
Publisher – Createspace
Pages – 254
Released – 3rd November 2017
ISBN-13 – 978-1979398923
Format – ebook, paperback
Reviewer – Stacey
Rating – 3.5 Stars
I received a free copy of this book
Post contains affiliate links.
Just when you thought it was safe to go back to Dulwich…
It's a perfect summer's morning in the plush south London suburb, and thirty-something Beth Haldane sneaks off to visit one of her favourite places – the world-famous Picture Gallery.
She's enjoying a few moments' respite from juggling her job at prestigious private school Wyatt's and her role as single mum to little boy, Ben, when she stumbles across a shocking new exhibit on display. Before she knows it, she's in the thick of a fresh, and deeply chilling, investigation.
Just who is The Girl in the Gallery?

Beth Haldane is back in the second instalment of 'The London Murder Mysteries' series, the first being 'Death In Dulwich', which I reviewed last week.
Beth has decided to take an early morning visit to one of her favourite places in Dulwich, the local art gallery, arriving at opening time and the first visitor there. Wandering around she comes across a patch of red, which she presumes must be blood. After the events from book one, she decides she isn't going to investigate what the red is on her own and goes to find help, returning with the receptionist.
She soon feels embarrassed when she thinks that the red is just a scarf, but the look on the receptionist's face tells a different story. She has spotted the cause. A young girl is lying across the stone tomb of one of the founders of the museum.
With the police called and Detective York on the case (the detective from book one), the two set to discovering what happened, but the investigation won't be straightforward and an easy one to solve.
I loved the first book in the series so I couldn't wait to get started on the second. I don't tend to read many cosy murder mysteries, so these books have been a welcomed change. For me, this book whilst still a great read, didn't have the pace and the grip of the first book.
I felt like there were too many sub-plots that just didn't go anywhere so personally, I don't feel that they brought anything to the story and weren't needed. The ending wasn't really that great either, I certainly expected more in the way of 'catching a villain' type of ending. There were some exciting moments through too and the main investigation had lots of twists, turns and red-herrings to keep you on your toes. I also felt this book was a bit more gruesome than the first – Which is a good thing.
Overall, the storyline was interesting and it was great to see aspects such as bullying and drug use brought to the forefront. If you like cosy murder mysteries then give this book a go. It can be read as a stand-alone, but I would suggest reading book one first.
Reviewed by Stacey
---
Purchase online from:
---
About the Author

Before turning to crime, Alice Castle was a UK newspaper journalist for The Daily Express, The Times and The Daily Telegraph. Her first book, Hot Chocolate, set in Brussels and London, was a European hit and sold out in two weeks.
Death in Dulwich was published in September 2017 and has been a number one best-seller in the UK, US, Canada, France, Spain and Germany. A sequel, The Girl in the Gallery was published in December 2017 to critical acclaim. Calamity in Camberwell, the third book in the London Murder Mystery series, will be published this summer, with Homicide in Herne Hill due to follow in early 2019.
Alice is currently working on the fifth London Murder Mystery adventure. Once again, it will feature Beth Haldane and DI Harry York. Alice is also a mummy blogger and book reviewer.