Deadly Reunion by Brian Lee Bournival – Book Review
Deadly Reunion by Brian Lee Bournival – Book Review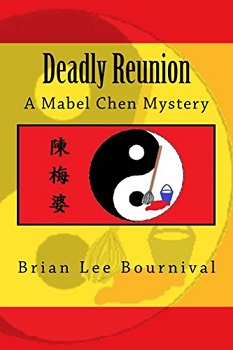 Deadly Reunion
Mabel Chen Mystery Book One
Author – Brian Lee Bournival
Publisher – Createspace
Pages – 235
Released – 16th May 2016
ISBN-13 – 978-1523925889
Format – ebook, paperback
Reviewer – Linda
Rating – 4.5 Stars
I received a free copy of this book
Post contains affiliate links.
Even though retired captain Dillon Shaw had a distinguished career in the Cleveland Police Department, there is one case that still haunts him. Over a period of six years, a serial killer dubbed Scars and Strikes abducted and killed seven retired U.S. Army officers. For each victim the killer sent a video of the victim to the police, tortured him for two days, and then murdered him. Ten years later—after the serial killer claimed his eighth victim—Dillon started his own undercover operation.
Cleveland's 8th precinct has received another video from Scars and Strikes. This time the victim is…Dillon Shaw. The cops at the precinct—including Dillon's grandson, Detective Fair Shaw—and the precinct's mysterious cleaning lady—Mabel Chen—must gather and analyze evidence and decipher clues to figure out where Dillon is being held captive. Will they be able to rescue him within 48 hours? Or will Dillon become Scars and Strikes' ninth victim? The clock is ticking…

Even before I had read a word the title of the book gave me a good idea to the storyline and true to its title a reunion with a old nemesis of the character Dillon Shaw causes dastardly deeds to happen again!! The title also gives us information as to the author Brian Lee Bournival's intentions and scope of the book.
The genre is Mystery and it certainly fits this book, which is the first in a series, I actually read the 2nd one without realising there was a previous one, but having now read the first one it has answered some questions I had in my mind, especially about the character Mabel Chen, I now know her past and the connection between her and another main character Dillon Shaw.
The other main character is Dillon's grandson Faragut Shaw nickname "Fair". The story revolves around these three and we hear of their connections and how they work together.
Written well, an easy, compelling book that is very hard to put down. Definitely a great book for mystery lovers. I really love the way the author wrote Mabel Chen's character, her observation and knowledge of people and life leads her to help solve crimes.
The language is clear and precise and the ideas are convincing and develops throughout the book. It does have some dark gruesome parts but it was a necessary scenario for the story and added to the depth and accuracy of he plot which unfolded nicely.
I absolutely loved Deadly Reunion. It kept me in suspense. Loved the main characters, especially dear Mabel Chen – even more so now I know her past, I would definitely recommend reading this book along with the second in the series, 'Archenemy'. I am now looking forward to reading the third book in the series, Loose Ends. Well done to the author Brian Lee Bournival for writing such a jolly good read.
Reviewed by Linda
---
Purchase online from:
---
About the Author

In 1989 Dr. Brian Lee Bournival earned a PhD in plant genetics from the University of Florida. He spent the next five years working as a postdoctoral associate—a glorified intern—before he made the brilliant deduction that there weren't very many jobs in the plant sciences. He changed careers and earned his living as a statistical programmer. After weighing all the statistical probabilities, he now believes it's time for another career change to author. His many scientific and programming experiences enable him to write authentic and intriguing mysteries.
Brian was born and raised in Northeast Ohio and loves to incorporate his familiarity with the region into his characters' lives. He now lives with his wife and 16 cats—unfortunately, that number isn't a typo—in beautiful rural Tennessee.

---