F*ck, Now There Are Two of You by Adam Mansbach – Book Review
F*ck, Now There Are Two of You by Adam Mansbach – Book Review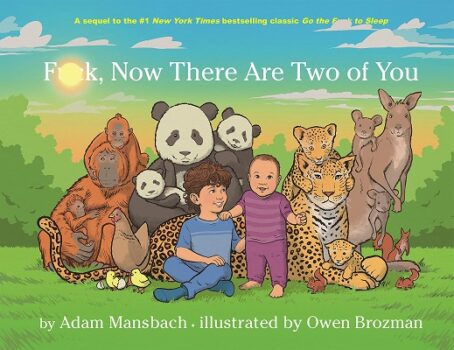 F*ck, Now There Are Two of You
Author – Adam Mansbach
Publisher – Canongate Books
Pages – 32
Released – 1st October 2019
ISBN-13 – 978-1786899484
Format – ebook, hardcover, audio
Review by – Stacey
Rating – 4 Stars
This post contains affiliate links.


It turns out that two is a million more kids than one.
Adam Mansbach famously gave voice to two of parenting's primal struggles in Go the F*ck to Sleep and You Have to F*cking Eat. Now F*ck, Now There Are Two of You tackles a new addition to the family and all the fears and frustrations attendant to the simple, math-defying fact that two is a million more kids than one.
As you probably know by now, you shouldn't read it to a child.

For those of you that are thinking about having a second child or have just had one this book is for you. It would also make a unique present if you know someone who has had their second child. It is laugh-out-loud funny and contains copious amounts of swearing.
I remember when I was pregnant with my second child another mum saying to me, having a second one is hard, but anymore after that is easy. I thought she was joking but she wasn't. Going from one child to two feels strange, and I feel this book perfectly sums it up.
The illustrations by Owen Brozman are perfect and full-page. My favourite image is of their eldest child wanting to be like a baby again, stood in the new baby's cot with a dummy in his mouth, it certainly brought back memories.
I can see parents nodding in agreement at the lack of sleep or items everywhere or even the behaviour of their older child who goes from wanting to help and be loving to wanting to be the little one again.
This is not a book for children, this is a picture book for adults. Just like the original book by Adam Mansbach, 'Go the F*ck to Sleep', this book makes light of what being a parent is really like.
Book Reviewer – Stacey
---
Purchase online from:
---
About the Author
Adam Mansbach is the author of the #1 New York Times bestseller Go the F**k to Sleep, which has been translated into 40 languages, and was Time Magazine's 2011 "Thing of the Year." The sequel, "You Have to F**king Eat," was published in November and is also a New York Times bestseller.
Mansbach's 2013 novel, Rage is Back, was named a Best Book of the Year by NPR and the San Francisco Chronicle and is currently being adapted for the stage; his previous novels include the California Book Award-winning The End of the Jews and the cult classic Angry Black White Boy, taught at more than eighty schools.
Mansbach is the recipient of a Reed Award, a Webby Award, and a Gold Pollie from the American Association of Political Consultants for his 2012 campaign video "Wake The F**k Up," starring Samuel L. Jackson. He was the 2009-11 New Voices Professor of Fiction at Rutgers University, a 2012 Sundance Screenwriting Lab Fellow and Indian Paintbrush/Sundance Institute Film writing Grant recipient, and a 2013 Berkeley Repertory Theater Writing Fellow.



---
What did you think of F*ck, Now There Are Two of You? Share your thoughts in the comment section below!
---
The above links are affiliate links. I receive a very small percentage from each item you purchase via these link, which is at no extra cost to you. If you are thinking about purchasing the book, please think about using one of the links. All money received goes back into the blog and helps to keep it running. Thank you.
Like us on Facebook – Tweet us on Twitter – Pin us on Pinterest