It's a Wonderful Night by Jaimie Admans – Book Review
It's a Wonderful Night by Jaimie Admans – Book Review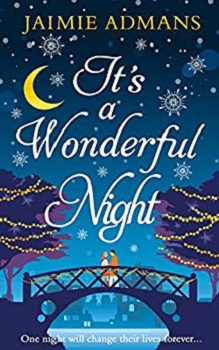 It's a Wonderful Night
Author – Jaimie Admans
Publisher – HQ Digital
Pages – 384
Released – 15th November 2018
ISBN-13 – 978-0008321062
Format – ebook, paperback
Reviewer – Stacey
Rating – 4 Stars
I received a free copy of this book
Post Contains Affiliate Links
One night will change their lives forever…
Georgia Bailey is closing up her little charity shop in Oakbarrow when she gets a mysterious late night call from a stranger, threatening to jump off the town's bridge.
Something about the man's voice is faintly familiar but all she can do is stay on the line and after talking for hours, losing sense of time passing, coax him back from the edge.
The next morning, Georgia walks to work, buys a festive latte from Leo (who she's had a crush on for months!) at the local coffee shop, and is shocked when she suddenly recognizes the voice from last night…
A heartwarming festive love story that reminds us that even in the darkest of times, hope is always just around the corner!

Georgia Bailey is working very late one night at the charity shop, One Light, where she is the manager, sorting out their Christmas window display when the telephone begins to ring. Ignoring it at first, Georgia's conscience gets the better of her and with a mouth full of Crunchie she manages to mumble hello into the receiver.
On the other end of the phone is a man who wants to know if it will hurt when he jumps off the bridge he is stood on. His tells Georgia all about his business which is in big trouble and he is about to lose everything. With no training to talk to suicidal people but knowing that she needs to keep him talking, Georgia does her best to coax him down.
Eventually, the man steps away from the edge and thanks Georgia for her patience and understanding and for making him smile again. The next day on her way to work, Georgia calls in at her local coffee shop, 'It's a Wonderful Latte' and realises from the voice that the man she spoke to is the owner Leo, though he doesn't recognise her.
Now Georgia has a mission on her hands to help Leo understand that he would be missed if he was no longer around and to help him bring in more customers. As the two get closer, Leo unfortunately only has one woman on his mind, the one who saved his life. He just doesn't realise she is standing right next to him.
My favourite Christmas movie of all time is 'It's a Wonderful Life' if you haven't seen it, you really should. With this in mind, I couldn't wait to read 'It's a Wonderful Night', knowing that the film had lots of influence on the plot.
Georgia Bailey (George Bailey is the main character in the movie), is such a beautiful person both inside and out. She hears Leo's cries for help and is determined to help him, even if it means she is out until the early hours of the morning making his shop Christmassy. Over time she feels herself falling for Leo, but Leo is desperate to find the woman who helped him. He doesn't know Georgia works at the charity shop, he believes she works at the bank next door.
Leo is a broken man. He dad has recently died and he bought the cafe in his memory. He can't afford staff and the only other worker is his elderly mum. He is a man who can't see the light at the end of the tunnel but he's slowly learning with Georgia's help that people do need him.
Ms. Admans has clearly done her research into mental health as it really shows in her writing as the storyline covers some serious issues, but they are done with grace and a determination to get the feelings and scenes just right.
The whole book was truly wonderful to read. It made me smile the whole way through and I didn't want it to end. It was completely heart-warming and I was hooked from the first chapter to the very end.
Reviewed by Stacey
---
Purchase online from:
---
About the Author

Hi. I'm Jaimie, I'm in my thirties, and I'm from South Wales, UK.
I write. Quite a lot. I started out self-publishing, but more recently I've been published by HQ Digital and will be querying agents with a YA project this year.
I enjoy writing, gardening, drinking tea, and watching horror movies. I love my Chihuahua – Bruiser, autumn and winter, and singing songs from musicals despite the fact I sound like a dying hyena. I hate spiders, hot weather, and cheese & onion crisps. I spend far too much time on Twitter and own too many pairs of boots.





---