Earth Storm by Mons Kallentoft – Book Review
Earth Storm by Mons Kallentoft – Book Review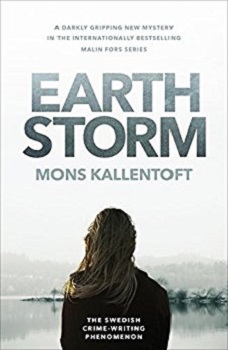 Earth Storm
Malin Fors
Author – Mons Kallentoft
Publisher – Hodder Paperbacks
Pages – 336
Released – 23rd August 2018
ISBN-13 – 978-1444776423
Format – ebook, paperback, audio
Reviewer – Clive
Rating – 4 Stars
I received a free copy of this book
Post contains affiliate links.
In the early hours of the morning, the naked body of a young man is discovered in a ditch next to Go¨ta Kanal. The cause of death is mysterious; the body bears no visible traces of violence.
The man is soon identified as Peder Akerlund, a former Swedish politician, excluded from his party for racism but since reformed. Then sixteen-year-old Nadja Lundin is reported missing, possibly abducted, the same evening, and there are signs that suggest the two cases might be connected.
But what do the victims have in common? And why were they chosen? Gradually, Malin Fors realises that they are dealing with someone who is playing a game with them, who speaks through murders and who will not be silenced. What is he or she trying to say? Desperate to fine Nadja alive, the team race against the clock to find an answer before it's too late…

I have frequently read that Swedish people enjoy a good standard of living, they are relatively healthy, they are well educated and they are supported by excellent welfare benefits. Even their crime statistics are better than most other countries. I therefore have to ask why their writers are so good at writing dark psychological thrillers.
Earth Storm is the eighth book in the Malin Fors series and the first Mons Kallentoft book that I have read. I was not disappointed. It was easy to read and the short punchy chapters kept my attention despite a brief lull mid-way through when the investigation was appearing to stall. The plot is full of modern issues and information technology plays a large part in the investigation.
Neil Smith has plenty of experience in translating Swedish fiction and he must take his share of the credit for such a good read.
Kallentoft has created an interesting central character in Malin Fors, a personally flawed but effective thirty-something Detective Inspector. Around her, he has built an interesting investigative team, all with their own strengths and weaknesses. At work Malin Fors is something of a superhero and the plot might have been more realistic if the action parts were shared around a bit, particularly during the gripping climax.
There was a small parallel plot featuring a problem that her daughter was experiencing at the same time. The book contains a fair measure of graphic violence. Not unrealistic considering the world that we live in but be warned if you are of a squeamish nature.
It appears that at least twelve Malin Fors books have been published and I hope that I can find time to read more. I can recommend Earth Storm and I have awarded it four stars.
Reviewed by Clive
---
Purchase online from:
---
About the Author

After being awarded the Swedish equivalent to the Whitbread Award for his debut novel Pesetas, Mons Kallentoft chose to give his own unique take on the classic Scandi crime novel. His success was immediate. The first book in the series about superintendent Malin Fors – Midwinter Sacrifice / Midwinter Blood – received unanimous praise from the national critics; it also conquered the bestseller charts and has today sold more than 300,000 copies in Sweden alone. Today it is translated into 28 languages.




---