The Tides Between by Elizabeth Jane Corbett – Book Review
The Tides Between by Elizabeth Jane Corbett – Book Review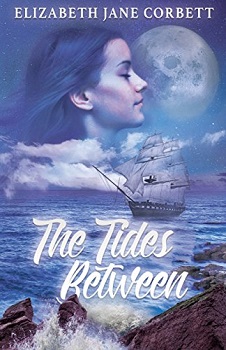 The Tides Between
Author – Elizabeth Jane Corbett
Publisher – Odyssey Books
Pages – 306
Released – 20th October 2017
ISBN-13 – 978-1925652222
Format – ebook, paperback
Reviewer – Nia
Rating – 5 Stars
I received a free copy of this book
Post contains affiliate links
In 1841, on the eve of her departure from London, Bridie's mother demands she forget her dead father and prepare for a sensible, adult life in Port Phillip. Desperate to save her childhood, fifteen-year-old Bridie is determined to smuggle a notebook filled with her father's fairy tales to the far side of the world.
When Rhys Bevan, a soft-voiced young storyteller and fellow traveller realises Bridie is hiding something, a magical friendship is born. But Rhys has his own secrets and the words written in Bridie's notebook carry a dark double meaning.
As they inch towards their destination, Rhys's past returns to haunt him. Bridie grapples with the implications of her dad's final message. The pair take refuge in fairy tales, little expecting the trouble it will cause.

This book is one of the most beautiful things I've ever read.
The immediate appeal to me was that it revolved around Welsh folklore and even had snippets of Welsh in it (best yet, totally correct Welsh and not the usual Google Translate booboos), but it's so much more than that.
It's set in the steerage of an emigrant ship headed from London to Australia, poorer people from the UK are heading out for what they hope will be a better life with more opportunities, they all have different reasons for the journey but they all share the same hopes for freedom from poverty.
Cramped in the steerage compartment without relief from the conditions, they suffer from all the afflictions you'd expect – claustrophobia, seasickness and typhus. The dynamics between the different people below decks are very real, they do snap at each other but they try their best to get along.
The story is told from the perspective of Bridie, a teenage girl who has lost her father and is unhappy that her mother is remarried and now pregnant. She's moody and stubborn but when she meets a Welsh couple on board the ship, they help her see the world through different eyes through the sharing of folktales and general sensible-ness.
This book is a tearjerker, so much so that I regretted reading it in work but couldn't put it down… thankfully nobody caught me having a little sniffle to myself.
Corbett has written her story and characters beautifully, she's done her homework about the period in time and the cultures involved so it feels to real – my favourite part is that she manages to show the place that fairytales have in our lives, even when we're meant to be 'grown up'.
Reviewed by Nia
---
Purchase online from:
---
About the Author

When Elizabeth Jane Corbett isn't writing, she works as a librarian, teaches Welsh at the Melbourne Welsh Church, writes articles for the Historical Novel Review and blogs at elizabethjanecorbett.com.
In 2009, her short-story, Beyond the Blackout Curtain, won the Bristol Short Story Prize. Another, Silent Night, was short listed for the Allan Marshall Short Story Award. Her historical coming-of-age novel, The Tides Between, was published by Odyssey Books in October 2017.
Elizabeth lives with her husband, in a renovated timber cottage in Melbourne's inner-north. She likes red shoes, dark chocolate, commuter cycling, and reading quirky, character driven novels set once-upon-a-time in lands far away.