The Snow Child by Eowyn Ivey – Book Review
The Snow Child by Eowyn Ivey – Book Review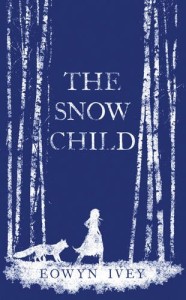 The Snow Child
Author – Eowyn Ivey
Publisher – Tinder Press
Pages – 448
Released Date – 30th August 2012
ISBN – 978-0755380534
Format – ebook, paperback, hardcover, audio
Reviewer – Stacey
Rating – 5 stars
Contains Affiliate Links

Alaska, the 1920s. Jack and Mabel have staked everything on a fresh start in a remote homestead, but the wilderness is a stark place, and Mabel is haunted by the baby she lost many years before.
When a little girl appears mysteriously on their land, each is filled with wonder, but also foreboding: is she what she seems, and can they find room in their hearts for her?

This is Eowyn Ivey's début novel based on the Russian fairy-tale, 'Snegurochka', which translates to 'Little daughter of the snow'.
I will admit that I committed the ultimate sin when purchasing this book – I fell in love with the cover and bought it mainly for that reason.
There are very few characters in the book and the story is mainly centred around Jack, Mabel and Faina. The descriptive of the Alaskan wilderness is as vivid as you could get, and you can imagine being stood in the middle of this harsh, yet beautiful land that Eowyn obviously knows well.
Jack and Mabel have moved away from the city life of the 1920's, in to the Alaskan wilderness, so that they can be alone, after Mabel lost her child years ago and is still grieving and struggling with seeing other parents and their children.
In the wilderness, Jack runs their small farm single-handed(at first), which is hard going and taking its toll on him. Mabel is stuck at home all day and is become increasingly lonely and depressed. Life in the wilderness isn't turning out the way they hoped it would.
During the first snowfall of the year, Mabel decides that she wants to be childish and for the two of them to build a 'snow child' together. Jack carves a beautiful face into the little girl they have built and Mabel places a hat and mittens on her. Night falls and they return to their little cabin.
The next morning when they wake, they find that the 'Snow child' has vanished and all that is left is a trail of small foot prints heading into the forest.
Jack enters the forest and catches sight of a young girl wearing the same hat and mittens, a young feral girl who seems to be living up in the mountains.
The girl, named Faina, becomes friendly with Jack and Mabel and comes regularly to visit them, though she very rarely will enter their home. With the help of Faina, the couple find that they are now becoming increasingly happier.
The couple start to fall in love with Faina, but they still have no idea where she lives nor where she goes when she leaves them.
Who is Faina really?
As the story is based on a fairy-tale, there is a mixture of both fantasy and reality to it, which fit well together. We are never told exactly who 'Faina' is, or where she came from or go's to. That is for your own imagination to work out.
The book is not a fast paced, roller coaster of a book. It is a slow yet enchanting read that some might find hard going. Saying that, I never felt I was struggling with the story and was constantly absorbed in to the Alaskan lifestyle of the 20's.
It is heart warming, yet gut wrenching at the same time, and you can feel all the emotions that the characters carry throughout the book.
The character's are well thought out and Jack and Mabel are a loveable couple who just fit perfectly together. Faina, is this shy, reserved, child that you never fully understand.
Is she real or is she actually the child they made of snow, come to life?
My copy of this book has been passed around from family member to family member, all have enjoyed it.
Book reviewed by Stacey
---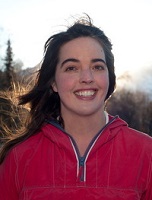 Eowyn (pronounced A-o-win) LeMay Ivey was raised in Alaska and continues to live there with her husband and two daughters. She worked for nearly a decade as a bookseller at independent Fireside Books in Palmer, Alaska, and prior to that as a reporter for the local newspaper, The Frontiersman.
Her new novel, To the Bright Edge of the World, was released on August 2. Her debut novel, The Snow Child, was a New York Times bestseller published in more than 25 languages. It was a finalist for the Pulitzer Prize, a UK National Book Award winner, an Indies Choice award for debut fiction, and a PNBA Book Award winner.
Author Links