Sherlock Holmes and the Glad Game by Matt Ferraz – Book Review
Sherlock Holmes and the Glad Game by Matt Ferraz – Book Review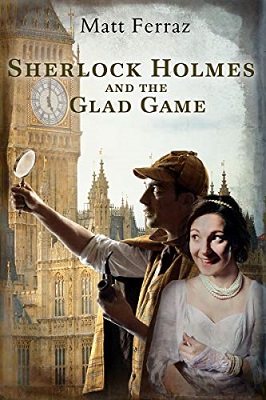 Sherlock Holmes and the Glad Game
Author – Matt Ferraz
Pages – 256
Released – 9th November 2018
ISBN-13 – 978-1730996603
Format – ebook, paperback
Review by – Ed Sheehan
Rating – 4 Stars
I received a free copy of this book.
This post contains affiliate links.


British sleuth Sherlock Holmes can solve any mystery from a small clue. American traveler Pollyanna Whittier can only see the good side of every situation. The only thing they have in common is their friendship with Dr. John Watson.
When Pollyanna shows up in London with a mystery for Holmes to solve, she decides to teach the detective the Glad Game: a way of remaining optimistic no matter what. A dangerous – and hilarious – clash of minds, where these two characters of classic literature need to learn how to work together in order to catch a dangerous criminal.

Wow! The author Matt Ferraz amazed me with Sherlock Holmes and the Glad Game. I am old enough to remember the "Pollyanna" philosophy from the 1960 Disney movie, and I have always tried to look for the positive in every circumstance, no matter how bad the situation. The author cleverly borrows the popular character from Eleanor H. Porter's 'Pollyanna' novel published in 1913, and the ever popular Sherlock Holmes novels by Sir Arthur Conan Doyle.
In this novel, Pollyanna calls the positive attitude the "Glad Game", and the author, Matt Ferraz, cleverly uses the historic fictional characters to promote Pollyanna's life-improving attitudes. The novel is presented in the first person from Dr. Watson's perspective.
If an author is going to use the legendary Sherlock Holmes as a character, a mystery has to be created for Detective Sherlock Holmes to solve. Author Matt Ferraz created that mystery when the much-too-talkative Pollyanna survives when a man mysteriously tries to strangle her, and in the traditional logical fashion, Holmes and Watson gather clues and try to connect them together in an attempt to foil the antagonists.
For detective enthusiasts, this novel's antagonists, murder plot, and evil greed will intrigue you and keep you turning pages. But more importantly, if you want to have a happier, more positive focus in your life, this novel is a must read. I repeat, a must read. But you have to practice the "glad game" after every unpleasant occurrence to make it part of your life.
Superbly written and edited, I rate the novel at the highest level of 4. I look forward to reading the novel again in the future.
Book Reviewer – Ed
---
Purchase online from:
---
About the Author

Author of all trades, Matt Ferraz has written thrillers, sci-fi, cozy mysteries and a lot of witty e-mails that sadly can't be published. With a degree in journalism and a masters in biography, Matt has works published in English, Italian and Portuguese, and loves trying new genres.


---
What did you think of Sherlock Holmes and the Glad Game? Share your thoughts in the comment section below!
---
The above links are affiliate links. I receive a very small percentage from each item you purchase via these link, which is at no extra cost to you. If you are thinking about purchasing the book, please think about using one of the links. All money received goes back into the blog and helps to keep it running. Thank you.
Like us on Facebook – Tweet us on Twitter – Pin us on Pinterest