The Noisy Foxes by Amy Husband – Book Review
The Noisy Foxes by Amy Husband – Book Review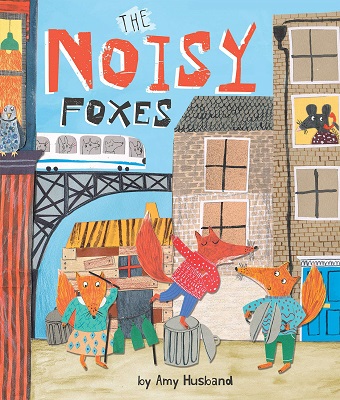 The Noisy Foxes
Author – Amy Husband
Publisher – Willow Tree Books
Pages – 32
Released – 1st une 2018
ISBN-13 – 978-1787004634
Format – ebook, paperback
Review by – Stacey
Rating – 4 Stars
I received a free copy of this book.
This post contains affiliate links.


Join the noisy foxes as they learn about home and belonging in this funny tale.
Written and illustrated by Amy Husband, The Noisy Foxes follows a family of foxes who decide to move out of the big, noisy city to look for somewhere quieter to live … but nowhere seems quite right! Distinctive collage style illustrations add to the charm of this humorous 'grass isn't always greener' tale.

The Noisy Foxes live in a very noisy city, under a railway bridge, and besides a very busy road. They also have noisy neighbours. One day they decide that they have had enough and that they would like somewhere quieter to live, so they set off for the countryside.
However, the foxes soon learn that living where it is very quiet might not be what they were looking for after all.
This is a fun young children's picture book about believing that because something is different and the opposite of what you have now is better than what you currently have, it is the perfect example of 'the grass isn't always greener'.
It was wonderful for the foxes to meet up with other woodland creatures and for them to show them where they live. It was also lovely to see the foxes realise that there really is 'no place like home'.
The illustrations are full-page, very bright, and bring the story to life. The book would make a fantastic read both at home or as a class read. It is short, doesn't contain much text but has a powerful message.
Book Reviewer – Stacey
---
Purchase online from:
---
About the Author
Award-winning illustrator, Amy Husband, graduated from Liverpool School of Art in 2006, where she gained a BA in Graphic Art.
Whilst she was there she developed a passion for children's picture books and set her heart on a career as an illustrator. Amy's first book 'Dear Miss' was voted the winner of the Cambridgeshire Children's Picture Book Award 2010. She has now tried her hand at writing and 'The Noisy Foxes' is the outcome.


---
What did you think of The Noisy Foxes? Share your thoughts in the comment section below!
---
The above links are affiliate links. I receive a very small percentage from each item you purchase via these link, which is at no extra cost to you. If you are thinking about purchasing the book, please think about using one of the links. All money received goes back into the blog and helps to keep it running. Thank you.
Like us on Facebook – Tweet us on Twitter – Pin us on Pinterest