Seven for a Secret Never to be Told by Joy McNally-Bells – Book Review
Seven for a Secret Never to be Told by Joy McNally-Bells – Book Review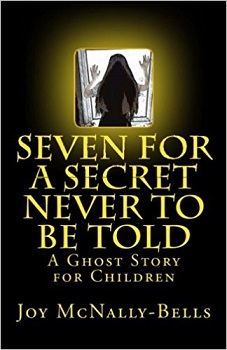 Seven for a Secret Never to be Told
Author – Joy McNally-Bells
Publisher – Createspace
Pages – 108
Release Date – 11th April 2017
ISBN-13 – 978-1542976343
Format – ebook, paperback
Reviewer – Stacey
I received a free copy of this book
Post Contains Affiliate Links

What would you do if you saw a ghost? 11 year old Mia Page thinks she has…and she's scared!
Mia lives with her Nan in an old cottage. Everything in her life seems normal until one night she is woken by the sound of crying. Mia confides in her best friend Safi, a refugee boy from Iraq, but in doing so puts his life at risk by exposing him to the supernatural forces unfolding around her.
A mysterious, wooden talisman and a grainy, black and white photograph provide unsettling clues to the ghostly phenomenon. An old and terrible secret is unravelling and Mia and Safi need all their grit and determination to face the danger ahead.

Mia lived with her Mum and Nan in a little cottage named, 'Magpie Cottage'. One night she was sure that she had heard someone crying outside, but in the morning her Nan thought she must of misheard.
On the day of her school swimming lesson her costume was nowhere to be found. Later the costume was discovered soaking wet, and dripping on the floor. Another day she saw someone was walking besides her Nan, whilst she was out walking the dog, but her Nan told her no-one was with her.
These strange occurrences kept on happening, so when tales started emerging about a group of friends in the 1050's, and the death of one of them, Mia decided to investigate further. Could she really be having contact with a ghost?
Seven for a Secret is a children's ghost story. It deals with paranormal activity, but it is not that scary that it is going to give kids nightmares.
I was intrigued by the book, and flew through it. I wanted to know if all of the events that were happening to Mia, or those that she witnessed, were connected, and how.
The book opens on Christmas Eve 1950, though I didn't realise at the time what the significance of this information had to do with the story. I presumed that the opening was about a group of lads hearing a ghost.
The book has short chapters, which I find are a must for children. It is a book that I would say would best be for those 9+ years old, as there is a lot of text, too much for a young child to read, plus there are no images throughout either.
Brilliant, mildly creepy, and gripping. Seven for a Secret Never to be Told is a book that has been written by a very talented debut novelist. I'd love to read more about Mia, perhaps she really has a sixth sense that is worth exploring.
Book reviewed by Stacey
Purchase Links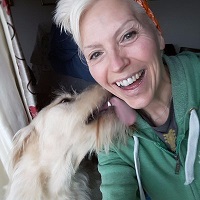 Besides writing Joy McNally-Bells runs a ghost blog 'Ghosts of Wrougton' and does regular ghost walks around the most haunted parts of the town. She describes herself as "an open sceptic".
Author Links