Take Off Your Brave by Nadim – Book Review
Take Off Your Brave by Nadim – Book Review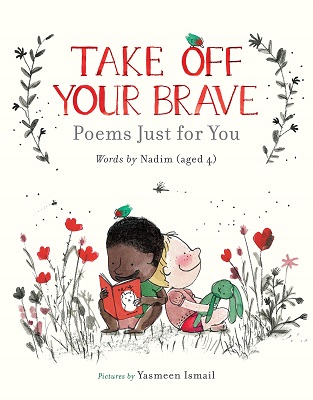 Take Off Your Brave: Poems Just for You
Author – Nadim
Illustrator – Yasmeen Ismail
Publisher – Walker Books
Pages – 40
Released – 6th May 2021
ISBN-13 – 978-1406399707
Format – hardcover
Rating – 5 Stars
I received a free copy of this book.
This post contains affiliate links.


Synopsis
Everybody has love.
Even baddies.
The poems in this book beautifully capture how a four-year-old sees the world – a world of rainbows, glitter and magical boxes; a world of nursery, hometime and cuddles with Mum. They make for joyful reading and, paired with a foreword from poet and teacher Kate Clanchy, and wonderful pictures by Yasmeen Ismail, are an invitation for young readers to join in the fun… By turns funny and charming, gentle and zany, Take Off Your Brave shows that poetry is for everyone – no matter how little you are!
Take Off Your Brave is a beautiful poetry book with words from four-year-old Nadim, his class, his sisters, etc. The poems are quite tremendous and are exactly how you would expect a four-year-old to view the world. It really is quite sweet.
Nadim talks about all kinds of subjects including his mum, nursery teacher, garden, baddies, wishes, and many more themes. My favourite has to be a poem titled My Dream School which would smell of daffodils, honey, and stinky socks. Love it!
Not only are the poems gorgeous, so are the illustrations too which were lovely to look at and emphasised what each of the poems was about.
This is a book that young children can understand. It has been written by a child, showing how they think and feel about things in the world and life. Take Off Your Brave is an amazing book and I'm not a massive fan of poetry but Nadim's words certainly spoke to me and made me smile.
Purchase Online From:
---
What did you think of 'Take Off Your Brave'? Share your thoughts in the comment section below!
---
The above links are affiliate links. I receive a very small percentage from each item you purchase via these link, which is at no extra cost to you. If you are thinking about purchasing the book, please think about using one of the links. All money received goes back into the blog and helps to keep it running. Thank you.
Like us on Facebook – Tweet us on Twitter – Pin us on Pinterest – Join us on Instagram