Hatty Harry and the Wet Socks by Jody Meadus – Book Review
Hatty Harry and the Wet Socks by Jody Meadus – Book Review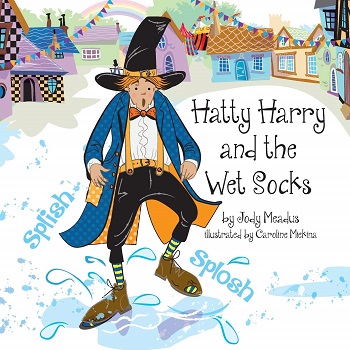 Hatty Harry and the Wet Socks
Author – Jody Meadus
Illustrator – Caroline Miekina
Publisher – Fisher King Publishing
Pages – 30
Released – 14th April 2021
ISBN-13 – 978-1913170899
Format – paperback
Rating – 5 Stars
I received a free copy of this book.
This post contains affiliate links.


Synopsis
There was a young man named Harry,
who found many things so scary.
Until one rainy day, enough was enough,
adventure was needed and other fun stuff,
So off he set, down his twisty old street,
Full of big puddles that wet his feet.
So begins this Hatty Harry adventure where he ends up entertaining the crowds in a circus ring.
Hatty Harry was walking down his street when he stepped in a puddle and got his socks all soggy and wet. He felt quite glum having wet feet but he perked up a little when he noticed a circus was in town for the day. Harry wanted to see the circus but first, he needed to find a shop that sold socks so he could change his wet ones.
Whilst looking for some new socks Harry jiggled and wiggled in his wet socks and caught the eye of the circus master who invited Harry to come and take part. Will Harry be brave enough to do his wet socks dance in front of the crowds though?
Hatty Harry and the Wet Socks is a children's rhyming picture book that tells the story of one young man and how his day started badly but through getting his feet wet his day ended on a high.
The text flows well and the words are kept simple. The brightly coloured full-page illustrations are beautiful, vibrant, and bring the story to life. I especially loved the images of Harry dancing and the squelching noises he was making. There is also a little white mouse hidden in the illustrations for children to find.
This is a book that will put a smile on a child's face. It is a lot of fun and was a joy to read. I can see this being a story that children will ask to be read to them over and over again at bedtime.
Purchase Online From:
---
What did you think of 'Hatty Harry and the Wet Socks'? Share your thoughts in the comment section below!
---
The above links are affiliate links. I receive a very small percentage from each item you purchase via these link, which is at no extra cost to you. If you are thinking about purchasing the book, please think about using one of the links. All money received goes back into the blog and helps to keep it running. Thank you.
Like us on Facebook – Tweet us on Twitter – Pin us on Pinterest – Join us on Instagram