Dirty Bertie: Tricks and Kicks by Alan MacDonald – Book Review
Dirty Bertie: Tricks and Kicks by Alan MacDonald – Book Review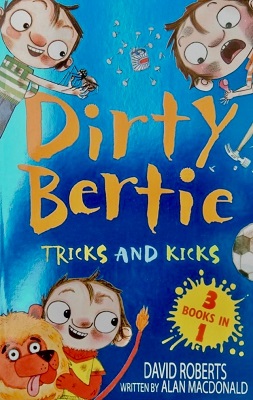 Dirty Bertie: Tricks and Kicks
Author – Alan MacDonald
Illustrator – David Roberts
Publisher – Stripes Publishing
Pages – 288
Released – 8th July 2021
ISBN-13 – 978-1788953221
Format – paperback
Rating – 4 Stars
I received a free copy of this book.
This post contains affiliate links.


Synopsis
Enjoy the comic capers of Dirty Bertie – the world's grubbiest trouble magnet – in this bumper book of nine revolting stories from MASCOT!, SPIDER! and OUCH!
DIRTY BERTIE is a hugely popular series featuring the character created by David Roberts and written by Alan MacDonald. With each hilarious story split into bitesize chapters, DIRTY BERTIE is ideal for building reading confidence.
Dirty Bertie: Tricks and Kicks is a collection featuring three Dirty Bertie books – Mascot!, Spider!, and Ouch! If you are not familiar with the book, each book contains three short middle-grade stories, so within this collection, you get nine short stories featuring the naughty, Dirty Bertie who is always up to something.
Earlier in the year, I reviewed Dirty Bertie: Bees! which was the 33rd book in the series, so this gives you an indication of how many they are in the series – a lot!
For any child who loves the series but hasn't read the three books combined, this would be perfect for them, especially given the price. If you have a child that hasn't read any from the series, Dirty Bertie is a young lad who lives in London with his mum, dad, and older sister. He has some nasty habits and often gets himself into trouble or precarious situations, though he normally learns the errors of his way by the end.
The books are perfect for those children who want to move up from picture books as the text is in larger than average font, the stories are quite short, and they are always enjoyable. The books are also easy to read with no big or hard to understand words.
There are cartoon-like illustrations throughout too which will give the reader a giggle and brings the story to life.
Dirty Bertie: Tricks and Kicks is a book that compliments this vast series and will keep a child entertained and happy for quite a while.
Purchase Online From:
---
What did you think of 'Dirty Bertie: Tricks and Kicks'?
---
The above links are affiliate links. I receive a very small percentage from each item you purchase via these link, which is at no extra cost to you. If you are thinking about purchasing the book, please think about using one of the links. All money received goes back into the blog and helps to keep it running. Thank you.
Like us on Facebook – Tweet us on Twitter – Pin us on Pinterest – Join us on Instagram