Ten Delicious Teachers by Ross Montgomery – Book Review
Ten Delicious Teachers by Ross Montgomery – Book Review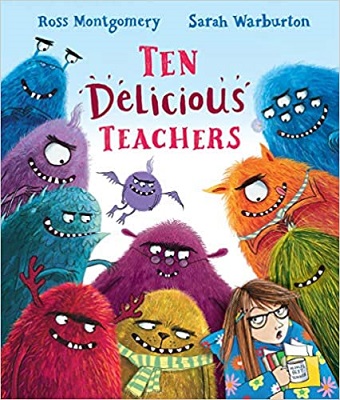 Ten Delicious Teachers
Author – Ross Montgomery
Illustrator – Sarah Warburton
Publisher – Walker Books
Pages – 32
Released – 5th August 2021
ISBN-13 – 978-1406389821
Format – hardcover
Rating – 4 Stars
I received a free copy of this book.
This post contains affiliate links.


Synopsis
Ten silly teachers have missed the last bus home. But LOOK – a shortcut through the forest! They'll be back in time for tea! Off they skip, unaware that in the woods a hungry horde of mischievous and hilariously goofy monsters is waiting… An irreverent and zany counting book that is gently thrilling with witty and whimsical illustrations.
Ten Delicious Teachers is the tale of ten rather silly teachers. First, they miss their bus home, then they decide to cut through the woods to get home, one that has a 'monster' warning before it.
In the teachers go and one by one the monsters pick them off on their travels until just one teacher is left, but what will happen to her?
I love Ross Montgomery's book 'The Midnight Guardians' which I reviewed last year and so when I heard that he had a new picture book out for younger children I knew it was going to be full of adventure and very amusing.
The story is told in rhyme and is complimented by bright, colourful, full-page illustrations. There is more text than in your average picture book, so young children who are just learning to read will need help to read it.
The contents I was expecting some big reveal at the end to show that the monsters hadn't really eaten the teacher, but unfortunately, this isn't the case, they really do, which I am sure children will find very amusing whilst some adults will be alarmed – but hey this is a book for kids and they will love the idea of a group of teachers being eaten.
It isn't a scary book though. The monsters are all colourful and fluffy and you don't actually see the teachers being eaten. Ten Delicious Teachers is a book that will give children a good giggle and keep them interested the whole way through.
Purchase Online From:
---
What did you think of 'Ten Delicious Teachers'? Share your thoughts in the comment section below!
---
The above links are affiliate links. I receive a very small percentage from each item you purchase via these link, which is at no extra cost to you. If you are thinking about purchasing the book, please think about using one of the links. All money received goes back into the blog and helps to keep it running. Thank you.
Like us on Facebook – Tweet us on Twitter – Pin us on Pinterest – Join us on Instagram