A Lion Is a Lion by Polly Dunbar – Book Review
A Lion Is a Lion by Polly Dunbar – Book Review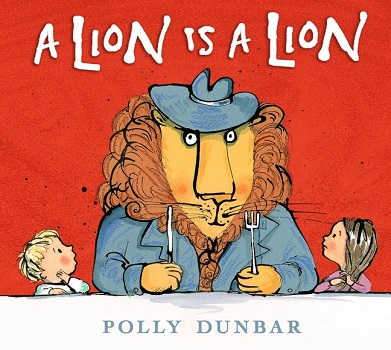 A Lion Is a Lion
Author – Polly Dunbar
Publisher – Walker Books
Pages – 40
Released – 2nd May 2019
ISBN-13 – 978-1406382822
Format – paperback, hardcover
Reviewer – Stacey
Rating – 5 Stars
I received a free copy of this book.
This post contains affiliate links.
From the creator of Penguin and the Tilly and Friends series comes a wicked, rollicking read-aloud which asks the question: Is a lion still a lion if he … wears a hat? And carries an umbrella? What if he … arrives at your door and invites himself in with a "How do you do?" (Isn't he polite!) And Also if he asks for a dance? What about when he licks his lips and says, "Oh yes, lunch would be lovely, thank you…" Is a lion still a lion then?

In this clever tale, Polly Dunbar shows children that no matter how you dress it up, a lion is a lion even if he wears a hat, puts a smile on his face and is polite. He is still ferocious and dangerous and you should keep away from him.
Children need to learn that just because someone acts and looks differently that underneath they are still the same person and if they were naughty or dangerous before then they are still that now, looks do not change what type of person they really are. The book clearly emphasises this message. It also shows that it is okay to say NO.
I think this book would be great for teaching children about strangers and people who might be nice to them or offer them sweets, etc to lure them away. People who are just pretending to be nice but they are not really.
The is a quick and simple read at just forty pages long but it certainly contains a very strong and important message that is nestled amongst the beautiful full-page illustrations.
Book Reviewer – Stacey
---
Purchase online from:
---
About the Author

Polly Dunbar is the author-illustrator of Arthur's Dreamboat and the bestselling picture book Penguin, winner of numerous awards including the Book Trust Early Years Award and the Red House Children's Book of the Year. She is also the illustrator of My Dad's a Birdman, written by David Almond, and Shoe Baby and Pat-a-Cake Baby, both written by her mother, Joyce Dunbar.
Her collection of titles beginning with Hello Tilly was made into an animations series, Tilly and Friends, as seen on Cbeebies. She is the co-founder of Long Nose Puppets, a children's theatre company.
Polly lives in Beccles, Suffolk.





---
What do you think of the book? Share your thoughts in the comment section below!
---
The above links are affiliate links. I receive a very small percentage from each item you purchase via these link, which is at no extra cost to you. If you are thinking about purchasing the book, please think about using one of the links. All money received goes back into the blog and helps to keep it running. Thank you.