Where's Home, Daddy Bear? by Nicola O'Byrne – Book Review
Where's Home, Daddy Bear? by Nicola O'Byrne – Book Review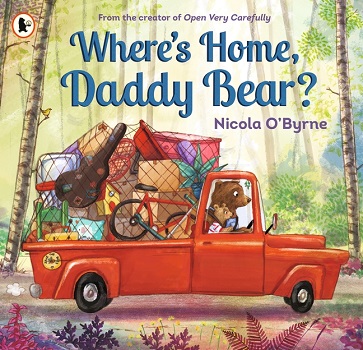 Where's Home, Daddy Bear?
Author – Nicola O'Byrne
Publisher – Walker Books
Pages – 32
Released – 2nd May 2019
ISBN-13 – 978-1406372137
Format – paperback, hardcover
Reviewer – Stacey
Rating – 4 Stars
I received a free copy of this book.
This post contains affiliate links.
Everything is about to change … Bear is moving home.
Bear and Dad are moving. But as they leave their old home behind and set off on their long drive towards the new, Bear is full of questions… "What if I don't like it there?" she worries, "How will I make new friends?" But Bear's dad reassures her with wise and comforting words and, by the end of their journey from the city to the country, Bear comes to realize: just as long as she is with her dad, she will always be at home.
From the creator of Open Very Carefully, Nicola O'Byrne, comes a tender, touching story that voices all the worries a child has about change, and celebrates the loving bond between father and daughter.

Evie Bear was scared. The day had arrived when she would be moving home with Daddy bear. She felt nervous that she wouldn't like her new home and that she wouldn't be able to make any new friends. Daddy Bear tried to cheer up his daughter and offered her words of encouragement.
On the way to their new home with their truck piled high with furniture, Daddy Bear was looking anxious and worried. He wasn't sure which way to go and he was scared about them being lost. Now it was up to Evie to help her dad and encourage him to be brave.
Where's Home, Daddy Bear? is a very sweet children's picture book about moving home and feeling worried about the big change in a child's life. Evie is such an adorable little bear and very clever too. She quickly realises that after her dad helped her overcome feeling nervous it was up to her to do the same for him when he was starting to panic about being lost.
There is no mention of Mummy Bear, although there is a photograph in one of the illustrations with two adult bears and a baby bear, so it is left open to interpretation, just be ready for some questions from your little ones as to where Mummy is.
Talking of illustrations, they have been drawn by the author and are so beautiful. They fill each page and bring the story to life. The bears' expressions are so delightful.
Where's Home, Daddy Bear? is a very poignant book that would be perfect for a child just about to move house. It helps to show them that home is inside of you, not just in the building you live in.
Where's Home Daddy Bear? Reviewer – Stacey
---
Purchase online from:
---
About the Author of Where's Home Daddy Bear?
Nicola O'Byrne is the illustrator of My Little Star, written by Mark Sperring, Two Little Bears, written by Suzi Moore, and the author-illustrator of the metafictive picture books, The Last Book Before Bedtime, Use Your Imagination and the bestselling, multiple award-winning Open Very Carefully, which won the Waterstone's Children's Book Prize and the Red House Children's Book Award.
Nicola has lived in Singapore, Papua New Guinea and the UK, but now lives in Los Angeles, USA.

---
What do you think of the book? Share your thoughts in the comment section below!
---
The above links are affiliate links. I receive a very small percentage from each item you purchase via these link, which is at no extra cost to you. If you are thinking about purchasing the book, please think about using one of the links. All money received goes back into the blog and helps to keep it running. Thank you.