Everyday Magic by Jess Kidd – Book Review
Everyday Magic by Jess Kidd – Book Review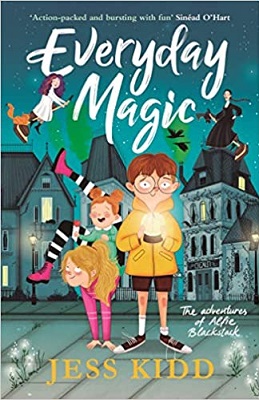 Everyday Magic
Author – Jess Kidd
Publisher – Canongate Books
Pages – 304
Released – 1st April 2021
ISBN-13 – 978-1838850203
Format – ebook, paperback, audio
Rating – 5 Stars
I received a free copy of this book.
This post contains affiliate links.


Synopsis
Welcome to Little Snoddington, where nothing is normal and every day is magic . . .
Nine-year-old Alfie Blackstack's parents have met a very unfortunate end. Now he's living in the SUPER CREEPY Switherbroom Hall with his mad-haired Aunt Gertie and warty Aunt Zita. The thing is, Alfie's aunts aren't just weird – they're WITCHES!
When the circus arrives in town Alfie makes his first ever friend, the FEARLESS Calypso Fagan. But when Calypso's little sister Nova disappears, they must face the TERRIFYING Head Witch in a race to find Nova and stop the next Witch War.
From the renowned author, Jess Kidd comes her first children's book, and what a fun, exciting children's book it is.
Meet Alfie Blackstack. After his parents tragically die in separate strange and unusual incidents he is sent to live with his aunts in Little Snoddington. He barely knows his aunts, the only thing he can remember involves a dancing turkey and his mum calling them a pair of witches. He had presumed that she was just being nasty and not that they were actual witches.
Just after he arrives to stay with his aunts, the circus arrives in town, bringing with it Calypso and her little sister Nova who Alfie becomes friendly with. It isn't easy though being the newcomer to town, having witches for aunts, and a new best friend who is adventurous and daring, whilst you are most definitely not. But Alfie must learn to be brave when Nova goes missing in a cloud of green smoke, surely magic must be involved and anything to do with magic is scary!!
Everyday Magic is a complete adventure. It is filled with joyous moments surrounded by what sounds like it is going to be a sad story, 'orphan child', 'little kid goes missing'. But it is anything but sad, it is fun, energetic, and riveting.
Alfie is such an adorable child with his too-short shorts, too-big shoes, and bright orange jacket he wears all the time. With his parents being exceptionally adventurous you would have expected him to be too, but Alfie hates most things, fast things, high things, scary things, animals, etc. He'd much rather sit quietly and read a book.
The bringing together of Alfie and Calypso was pure genius as they are complete opposites and yet they work perfectly together. They hit it off from the moment they meet.
As well as Nova going missing, the pair are also trying to work out what the imp in a snowglobe (go with it) is trying to tell them. Though he does like to cause a lot of destruction too.
This is a wonderful book, entertaining from the first page to the last and I hope that Jess Kidd writes more children's books as she has a real knack for it.
Purchase Online From:
---
What did you think of 'Everyday Magic'? Share your thoughts in the comment section below!
---
The above links are affiliate links. I receive a very small percentage from each item you purchase via these link, which is at no extra cost to you. If you are thinking about purchasing the book, please think about using one of the links. All money received goes back into the blog and helps to keep it running. Thank you.
Like us on Facebook – Tweet us on Twitter – Pin us on Pinterest – Join us on Instagram