Big Digger Little Digger by Timothy Knapman – Book Review
Big Digger Little Digger by Timothy Knapman – Book Review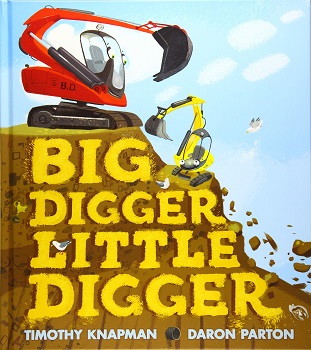 Big Digger Little Digger
Author – Timothy Knapman
Illustrator – Daron Parton
Publisher – Walker Books
Pages – 40
Released – 4th July 2019
ISBN-13 – 978-1406382952
Format – paperback, hardcover
Reviewer – Stacey
Rating – 5 Stars
I received a free copy of this book.
This post contains affiliate links.
Little Digger loves to work hard, digging holes all day long. "Little digger, little digger" he hums happily as he digs. But, one day, an especially BIG hole needs to be dug, and so in comes … BIG DIGGER.
"Big Digger like to dig down DEEP!" he roars, and he begins to dig the biggest hole that anyone on the building site has ever seen… With the arrival of Big Digger, will there still be a place for Little Digger on the building site?

How many little children do you know who love construction vehicles? I remember my three children when they were toddlers all having a construction set and they played with it every day. For all those children that love these hard-working vehicles, this book is just perfect.
Little Digger loves the construction site. He works the hardest of all the vehicles and enjoys his job. That is until a large hole needs to be dug. He is sure she can do it but before he gets the chance to try a bigger one arrives to dig the hole, now he doesn't have any jobs to do.
There are no more holes needed to be dug on the site and Little Digger can't do other jobs like mixing cement, he feels lost and alone, that is until Big Digger has a problem and Little Digger has an idea of how to help him.
This is such an adorable book. It is brightly illustrated with full-page illustrations that capture the building site and all the vehicles perfectly. The story is very sweet and shows no matter your size you can always be useful.
At the front and back of the book the author has included diagram drawings of both the diggers to show what the different parts are called, I thought this was a very clever idea and educational too.
I loved this book and I'm sure little children will love it too.
Book Reviewer – Stacey
---
Purchase online from:
---
About the Author

Tim Knapman writes plays, musicals, songs and children's books and has been published by Simon & Schuster, Puffin, Macmillan, Scholastic, Hachette, Egmont UK and many more. His previous books include the bestselling Dinosaurs in the Supermarket, Dinosaurs Don't Have Bedtimes and Superhero Dad.
His books have been translated into 20 languages and several have been read on CBeebies bedtime stories. Tim has done more than 100 events and readings in schools, colleges, bookshops, fairs, libraries and festivals.
He lives in Sussex and his hobbies include swashbuckling.




---
What did you think of the book? Share your thoughts in the comment section below!
---
The above links are affiliate links. I receive a very small percentage from each item you purchase via these link, which is at no extra cost to you. If you are thinking about purchasing the book, please think about using one of the links. All money received goes back into the blog and helps to keep it running. Thank you.