King Baby by Kate Beaton – Book Review
King Baby by Kate Beaton – Book Review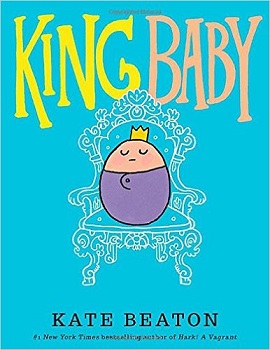 King Baby
Author – Kate Beaton
Publisher – Walker Books
Pages – 40
Release Date – 1st September 2016
Format – paperback
Reviewer – Stacey
I received a free copy of this book
Post Contains Affiliate Links

The second hilarious title from the #1 New York Times bestselling author of Hark! A Vagrant and The Princess and the Pony.
The perfect gift for any family expecting a new baby, this is a laugh-out-loud take on the joy (and exhaustion!) of having a new lovable little tyrant. All hail King Baby!
King Baby is gracious – bestowing smiles on his public, allowing tickles and hugs, and posing for photo after adorable photo. But this teeny tiny royal ruler also has many demands, and when his faithful subjects can't quite keep up, King Baby must take matters into his own hands.

All hail King Baby, for he is here to rule this house.
The birth of King Baby has arrived, and his loyal subjects have come to bless him with their gifts, or friends and family as we know them.
As any parent will tell you those first few hours are the calm before the storm, before the baby makes all of his demands. His cries can be heard far and wide, for a variety of reasons, I want feeding, I want changing, I need burping and on and on.
As King baby gets older the demands still continue, 'bring me my toys, no, not that one the other one'. When he gets fed up with his parents not getting things right, he will just have to try to do it himself.
This is a hilarious book about how a baby rules the house, and his parents. Being the mother of three boys, I can certainly agree with everything in this book. Parents do become the slaves of their child, we run around doing everything that baby wants, the baby most certainly is King!
King Baby is a children's book that I feel kids will find extremely funny, especially those with younger brother's or sister's. It is far more than that though, this is a book that could be given to those who are expecting, or who have just had a baby to give them a laugh, it certainly made me laugh out loud.
It is good to be the king.
Book Reviewed by Stacey
Purchase Links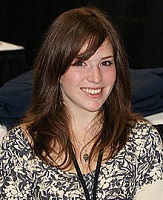 Kate Beaton is an artist from Nova Scotia. She first made a name for herself in webcomics, but has since branched out into comic books, magazines, illustration, and most recently, creating picture books for children.
Kate studied history and anthropology in school, and worked in museums before moving into the art world. She is self-taught, and still learning as she goes.
Author Links