The Lotterys Plus One by Emma Donaghue – Book Review
The Lotterys Plus One by Emma Donaghue – Book Review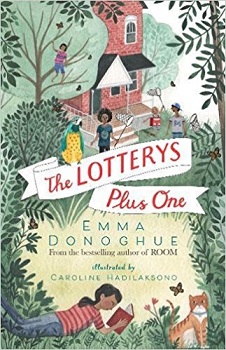 The Lotterys Plus One
Author – Emma Donaghue
Publisher – Macmillan Children's Books
Pages – 320
Release Date – 20th April 207
ISBN-13 – 978-1509852512
Format – ebook, paperback, hardcover, audio
Reviewer – stacey
I received a free copy of this book
Post Contains Affiliate Links

Meet the Lotterys: a unique and diverse family featuring four parents, seven kids and five pets – all living happily together in their big old house, Camelottery. Nine-year-old Sumac is the organizer of the family and is looking forward to a long summer of fun.
But when their grumpy and intolerant grandad comes to stay, everything is turned upside down. How will Sumac and her family manage with another person to add to their hectic lives?

The Lotterys Plus One, is the first children's book written by the international bestseller of Room, Emma Donaghue.
The Lotterys are a completely unique, and eccentric family. There are two fathers, PopCorn and PapDum, two mothers, MaxiMum and CardaMum, and between them they have seven children, six of whom are adopted, and are all named after trees. Each child has a completely different personality, this is what brings the story to life.
The children don't go to school, they are home educated. The parents don't work, and are very Eco friendly. They also use some strange words for different parts of the house, which was a little baffling at times.
When PopCorn's elderly family nearly burns his house down, he brings him to live with the family, in their large, expensive, 32 bedroom home, Camelottery (They won money on the lottery, that is how they got the big house).
PopCorn's dad, or Grumps as he gets called, doesn't particularly like anything, nor anyone. He doesn't understand, or like the way the family live. He is definitely old fashioned in the way he views the world, but with the help of Sumac, one of the children, he soon starts to change his ways and begins to integrate within the family.
Ms. Donaghue has delved into a world which is very rarely spoken, and children are rarely educated about, diversity within a family circle. The lotterys are a multicultural family, with the fathers being a couple, and the mothers being a couple. Plus the adopted children come from across the world. You don't get much more diverse than that!
The book is beautifully written, heart warming and funny. It will have children understanding that families come in all shapes and sizes, and that love and understanding is what matters above all else.
There were a few little things that did irk me. The main one being Brian/Briar. This is a little girl, who decides that she wants to be male, and although the family now treats her as male, and refer to her as Brian, Ms. Donaghue uses the words her/she all the time when mentioned Brian, which can get a little confusing.
The Lotterys Plus One is a slow starter, but there is a lovely underline message running throughout the story, in regards to treating everyone with respect, no matter who they are, their beliefs, race, gender, etc. It is certainly different from other children's/YA books, whether a little too different for some children is yet to be seen.
Book reviewed by Stacey
Purchase Links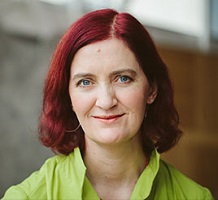 Born in Dublin, Ireland, in October 1969, I am the youngest of eight children of Frances and Denis Donoghue (the literary critic). I attended Catholic convent schools in Dublin, apart from one eye-opening year in New York at the age of ten.
In 1990 I earned a first-class honours BA in English and French from University College Dublin (unfortunately, without learning to actually speak French). I moved to England, and in 1997 received my PhD (on the concept of friendship between men and women in eighteenth-century English fiction) from the University of Cambridge.
From the age of 23, I have earned my living as a writer, and have been lucky enough to never have an 'honest job' since I was sacked after a single summer month as a chambermaid. After years of commuting between England, Ireland, and Canada, in 1998 I settled in London, Ontario, where I live with Chris Roulston and our son Finn (12) and daughter Una (9).
Author Links