Kamyla Chung and the Classroom Bully by Ellwyn Autumn – Book Review
Kamyla Chung and the Classroom Bully by Ellwyn Autumn – Book Review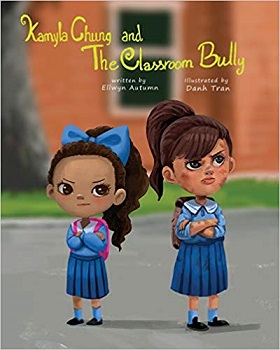 Kamyla Chung and the Classroom Bully
The Kamyla Chung Series Book Two
Author – Ellwyn Autumn
Publisher – Angel Kiss Pub
Pages – 34
Released – 8th August 2018
ISBN-13 – 978-0692175330
Format – ebook, paperback
Reviewer – Stacey
Rating – 4.5 Stars
I received a free copy of this book.
This post contains affiliate links.
Kamyla Chung loves school! Then one day everything changes when a classmate named Nikita begins to disrupt the classroom. Kamyla grows anxious about Nikita's hurtful behavior.
It's hard to learn and have fun in school with Nikita constantly misbehaving. One day the two girls have an argument and Kamyla gets hurt. Afterwards, Kamyla learns of Nikita's own struggles. Saddened by the unfortunate news, Kamyla rises to the challenge to help her troubled classmate.

There is a new pupil at Kamyla's school. The new girl, Nikita, is rather rough and hurtful. She doesn't know how to play properly and although Kamyla tried to make her feel welcome and is kind to her, the new girl is just mean.
One morning Kamyla is upset, she doesn't want to go to school. Her parents reassure her that they have spoken to her teacher and are going to school with her to speak to the school counsellor about Nikita and that the teacher has a special job just for Kamyla today. However, Nikita is jealous of Kamyla's special job and the two have a falling out resulting in Kamyla getting hurt again.
The next day Nikita isn't in school, nor the next. Nikita is in hospital after falling down the stairs at home. Could there be a reason for Nikita being horrible?
I'm willing to bet that bullying of some form goes on or has happened at every school at some point. There are lots of forms of bullying and in Kamyla Chung and the Classroom Bully, the form of bullying is physical resulting in Kamyla getting hurt.
There are also lots of reasons that someone becomes a bully, I don't believe that every bully is copying bad behaviour, or is brought up that way, I'm a great believer in that some people are just mean and enjoy being mean. In this book, there is a clear reason for Nikita's behaviour and it is handled in a sensitive way that young children will understand.
The book is a wonderful introduction to bullying for children and especially would be a perfect read for those children being bullied or even those that are the bully to make them understand how hurtful they are being.
The full-page illustrations complement the story and I love how the colouring changes depending on the mood of Kamyla.
A very sweet book that covers a subject all kids need to learn about. It also touches on what a Foster Parent is and why someone might need one. It would make a wonderful class read to highlight bullying.
Reviewed by Stacey
---
Purchase online from:
---
About the Author

Ellwyn Autumn is a certified teacher with a Master's In Education and 20 years classroom experience. She is a contributing writer for Coffee House Writers and has an educational blog called Lemon Drop Literary. Ellwyn lives in Pennsylvania with her family. She loves all things magical, curling up with a good book, and almost anything with chocolate in it.



---
The above links are affiliate links. I receive a very small percentage from each item you purchase via these link, which is at no extra cost to you. If you are thinking about purchasing the book, please think about using one of the links. All money received goes back into the blog and helps to keep it running. Thank you.