The First Christmas Jumper by Ryan Tubridy – Book Review
The First Christmas Jumper by Ryan Tubridy – Book Review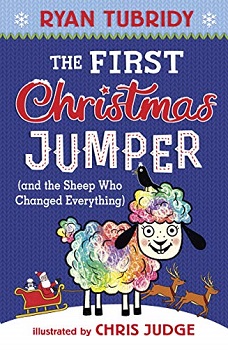 The First Christmas Jumper
and the Sheep Who Changed Everything
Author – Ryan Tubridy
Illustrator – Chris Judge
Publisher – Walker Books
Pages – 144
Released – 25th October 2018
ISBN-13 – 978-1406388732
Format – ebook, hardcover
Reviewer – Stacey
Rating – 4 Stars
I received a free copy of this book
Post contains affiliate links.
The story of the very first Christmas jumper and the multi-coloured sheep that started it all!
There are two things you need to know about Hillary the sheep. One – Unlike her typical white or brown friends, Hillary's wool is all the colours of the rainbow. Two – she loves Christmas. She loves everything about it, especially Santa. When news gets out that Mr Claus himself is travelling across all of Ireland, looking for the perfect sheep's wool to make a brand new jumper, Hillary's head begins to spin… Could her wool-dest dreams come true?
With back-chatting sheep, a jelly baby-obsessed farmer and a choir of Elvish Presley singing elves, this is a truly wild, laugh out loud adventure all about the creation of the very FIRST Christmas jumper.

Hillary the Sheep lived on Farmer Jimmy's farm in Ireland. She was no ordinary sheep though, she was a multicoloured sheep, the only multicoloured sheep there was.
Whilst all the other sheep loved grazing or sleeping, Hillary loved to write lists, she also loved Christmas and was excited about it fast approaching. One day the sheep heard that Father Christmas was looking for a special sheep to make the first Christmas Jumper.
Hillary was overwhelmed with excitement, especially when the big man himself arrived at the farm to look at the sheep. Will Hillary's woolen coat be good enough for the first ever Christmas Jumper?
The First Christmas Jumper and the Sheep Who Changed Everything is a fun children's book that has a great cast of characters, even if they are sheep. You get to meet Hillary, of course, then there's chatterbox Joe, daisy eating Margaret, huggable Marion, serious Sally, crow loving Mo, cake lover Donna and read-a-holic Liz. Oh and then there is Brian too who loves to wind Hillary up.
The book is pure entertainment and filled to the brim with humorous moments. The chapters are short and each has a fun title and includes plenty of child-friendly slapstick moments within. Hillary is one funny sheep and the queen of comebacks.
There are black and white illustrations throughout which actually reminded me of the drawings that you get in colouring books. I would have loved to of seen some colourful illustrations given the nature of the book being about a multicoloured sheep, rather than just the front cover.
For children that love a great story and like to laugh-out-loud, or are looking for something that will keep them amused the whole way through, this book is perfect. It even has sheep jokes at the back too.
Reviewed by Stacey
---
Purchase online from:
---
About the Author

Ryan Tubridy has become one of Ireland's leading and best-loved media personalities. He is best recognized as the current host of the world's longest running chat show, The Late Late Toyshow. In 2017, he published his first picture book Patrick and the President, illustrated by P.J. Lynch, which was shortlisted for an Irish Book Award. He lives in Dublin.


---