A Singular Baptism by Carlos J Server – Book Review
A Singular Baptism by Carlos J Server – Book Review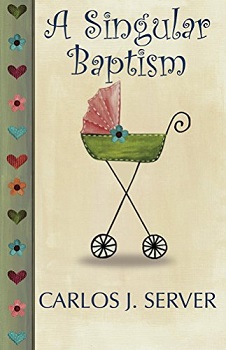 A Singular Baptism
Author – Carlos J Server
Publisher – Createspace
Pages – 262
Released – 2nd May 2017
ISBN-13 – 978-1546410805
Format – ebook, paperback
Reviewer – Julie
Rating – 3 Stars
I received a free copy of this book
Who hasn't had the opportunity, or rather, the trial, of organizing a large family celebration? Thanks to a peculiar family tradition, Lucía, the protagonist of A Singular Baptism, is tasked with arranging the baptism of her son Argimiro on idyllic El Hierro, the smallest of the Canary Islands.
During one frantic weekend, Lucía must deal not only with her husband's and her own unconventional families, she must also find out if her suspicions about the true identity of her son's father are correct or merely the result of a simple misunderstanding. With its cast of entertaining characters and everyday situations taken to extremes, A Singular Baptism will leave readers wondering if their families are as outlandish as Lucía's.
'A Singular Baptism' is the second novel from Spanish author, Carlos J Server. The action takes place over one weekend and is the story of an extended family who chose to follow a long-held tradition by travelling to El Hierro in the Canary Islands for the baptism of the youngest of their clan, a baby boy named Argimiro.
Whilst everything has been planned to perfection on paper, inevitably whatever could go wrong, does go wrong. The plot revolves around a variety of farcical situations as the family become embroiled in attempting to determine who the baby's biological father is.
It seems a little odd that they would have got to the point of having the baby baptised before these doubts surfaced but without this small twist, there really would be no storyline at all. The reader therefore needs to suspend reality to accept the scenario without overthinking it.
The cover is simple but eye-catching and the book stylishly presented. The pace is fast-moving and the tale delivered in the third person, enabling us to view the action from several different perspectives but mainly through the eyes of Lucia, the baby's mother. There are some engaging descriptive passages which I definitely enjoyed but rather a lot of dialogue which can, at times, create an imbalance.
For the story to sell itself, the reader needed to care about the characters. Perhaps if there hadn't been an over-reliance on attempted humour, other literary devices could have been employed to make the people we encounter in the story more three dimensional. I think arguably the tale may have lended itself better to a short story format however, with 250 pages devoted to such a narrow plot, it was always going to be a challenge.
I think it is fair to say this book didn't really fire my imagination; possibly it lost something in translation or maybe I'm just not a great fan of slapstick. Nonetheless, if you enjoy a good light-hearted wholesome comedic romp without any graphic content, then you will doubtless love it. For the overall professional presentation of the book and its niche audience appeal, I objectively award 'A Singular Baptism' three stars.
Reviewed by Julie
---
Purchase online from:
---
About the Author

Carlos J. Server first became a household name in 2014 with his debut novel, Un día con suerte, a finalist in the First Annual Indie Literary Prize Contest cosponsored by Amazon, the prestigious Spanish newspaper El Mundo, and publisher Esfera de los Libros. Contest judges considered more than seven hundred works by authors from thirty-two countries.
Un día con suerte became an overnight Internet phenomenon, quickly rising in the charts to become the No. 1 bestselling eBook in Spanish on Amazon in Spain, the United States, the United Kingdom, Mexico, Germany, France, Holland, and Italy. It has maintained its ranking in Europe as the top-selling comic novel in eBook form available in Spanish on Amazon throughout 2015 and 2016.
In 2015 Carlos Server published his second novel, Un bautizo singular, a romantic comedy of intrigue peopled by a cast of zany characters.
In his fast-paced, suspenseful, highly entertaining novels, Carlos Server invites us to enjoy tales reminiscent of Billy Wilder and Woody Allen, two artists much admired by the author.




---
Blog posts straight to email via Bloglovin – Like us on Facebook – Follow us on Twitter