Life's Not Over Yet by Vidisha Chandna Dua – Book Review
Life's Not Over Yet by Vidisha Chandna Dua – Book Review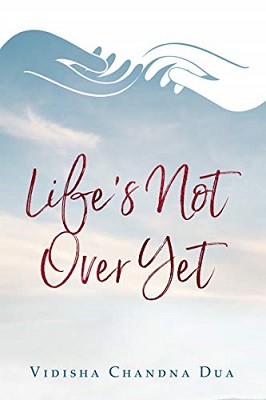 Life's Not Over Yet
Author – Vidisha Chandna Dua
Publisher – Blurb
Pages – 61
Released – 20th January 2021
ISBN-13 – 978-1715453411
Format – ebook, paperback, hardcover
Rating – 4 Stars
I received a free copy of this book.
This post contains affiliate links.


Synopsis
Trisha moves to Chail, a beautiful hill station to escape from her past on the advice of her friend. She realises soon enough that her friend has not told her everything.
In time Dev and her, become good friends. Even though they both start caring for each other, she is not able to forget her past or share her past with him.
Trisha must decide what is more important, her past or her future. Will she give up on her dreams and resign herself to her fate or take one day at a time and start rebuilding her life again.
Life's not over yet is a heart-warming love story that shows you, life can be magical as well as painful. At any moment your entire life can change for better or for worse. The best way to enjoy the magic or survive the pain is to surround yourselves with the people who love you.
Life's Not Over Yet is a short slow-burn romance novella of just 61 pages. The book opens with Trisha arriving in Hill Station, Chail, India looking for a fresh start and to reflect on the past. Her friend has arranged accommodation for her, which she believes is a one-bedroom apartment, but turns out to be a room in Doctor Dev's house.
Dev is fiercely independent and likes his privacy. He was persuaded by his sister to let an 'older' woman who needed somewhere to stay live with him for a few days, but when he was drunk she got him to sign a one-year lease.
The characters are well developed and enjoyable to follow. Dev came across as a bit arrogant at the beginning but then he had been duped into letting someone stay at his house for a year. Trisha is a private character who doesn't like talking about her past. You know something happened but it isn't until late in the plot that you discover what.
Although the story is only 61 pages at times it felt longer as sometimes there were passages that felt unnecessary, fillers that didn't add anything to the plot. Other times the book was absorbing, especially the conversations Dev and Trisha had.
Vidisha Chandna Dua has a knack for recreating real-life in her work and just as she did in her previous work we reviewed 'Love and Hate' she has created a short story I read in one sitting and with a twist I didn't see coming.
Purchase Online From:
---
What did you think of 'Life's Not Over Yet'? Share your thoughts in the comment section below!
---
The above links are affiliate links. I receive a very small percentage from each item you purchase via these link, which is at no extra cost to you. If you are thinking about purchasing the book, please think about using one of the links. All money received goes back into the blog and helps to keep it running. Thank you.
Like us on Facebook – Tweet us on Twitter – Pin us on Pinterest