122 Rules by Deek Rhew – Book Review
122 Rules by Deek Rhew – Book Review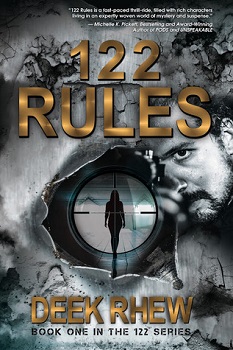 122 Rules
Author – Deek Rhew
Publisher – Pandamoon Publishing
Pages – 300
Release Date – 5th April 2016
Format – ebook, paperback
Reviewer – Clive
I received a free copy of this book
Post Contains Affiliate Links

In his black-and-white world, Sam Bradford–former Marine turned government assassin–finally sees a speck of gray. He has always followed orders without question, but his latest assignment threatens to disrupt the precision of his universe and may either sever or redeem his last remaining sliver of humanity.
Using his mastery of the 122 Rules of Psychology, Sam hunts down everyone The Agency sends him to find and eliminates them. Just as he has his rifle scope focused on his latest victim, Monica Sable, a SoCal girl entangled with the mob, his long-dormant conscience reappears for a final performance–one last-ditch effort to save the sinking ship of Sam's soul. He's killed innocents before but tarries on pulling the trigger this time.
When Monica escapes his crosshairs and fumbles her way across the country in a pathetic attempt to elude capture, Sam gives chase. But he's not the only one after her. Ruthless henchmen, hired by the mob, froth like bloodhounds and nip at Monica's heels. Now Sam is faced with a choice: turn his back on the rules and jeopardize his way of life by helping her, or join the pack and rip her to shreds.

Wow, there is no messing about here! This book starts off with a bang when on page one a young lady is bundled into a car by four people. Are they police or criminals? Is she innocent or guilty and if so, of what? And if they really are who they claim to be then why do they act in such an aggressive manner?
The book was very hard to put down as it continues at the same cracking pace with action and intrigue throughout. The only slightly slow point came when the main character was introduced and two days of action were repeated but told from his perspective. However, the different views were necessary to the plot and as soon as we caught up the action was again moving at a rapid pace.
Deek Rhew incorporates the familiar themes of sex, violent fights, explosions and car chases; all described well. There was one short sequence which I felt stretched the borders of good taste although it was essential for us to know how terrifying the perpetrator could be.
The book was so easy to read and the writing was of a high quality with excellent spelling and grammar throughout. It appears to be the start of a series and whilst the story is neatly wrapped up at the end there are sufficient hanging threads to lead to a sequel.
As you have probably realised I loved 122 Rules and I have no hesitation in awarding the five stars that it deserves.
Book Reviewed by Clive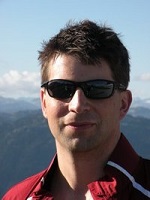 Deek lives in a rainy pocket in the Pacific Northwest with the stunning YA author bride, Erin Rhew, and their writing assistant, a fat tabby named Trinity. They enjoy lingering in the mornings, and often late into the night, caught up Erin's fantastic fantasy worlds of noble princes and knights and entwined in Deek's dark underworld of the FBI and drug lords.
He and Erin love to share books by reading aloud to one another. In addition, they enjoy spending time with friends, running, boxing, lifting weights, and exploring the little town–with antique shops and bakeries–they call home.
Author Links