The Frequency of Us by Keith Stuart – Book Review
The Frequency of Us by Keith Stuart – Book Review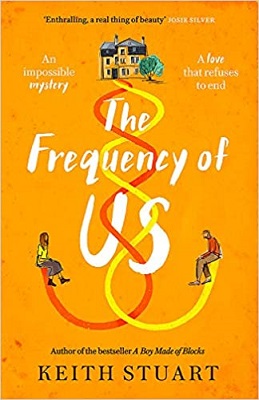 The Frequency of Us
Author – Keith Stuart
Publisher – Sphere
Pages – 416
Released – 25th March 2021
ISBN-13 – 978-0751572940
Format – ebook, hardcover, audio
Rating – 5 Stars
I received a free copy of this book.
This post contains affiliate links.


Synopsis
In Second World War Bath, young, naïve wireless engineer Will meets German refugee Elsa Klein: she is sophisticated, witty and wordly, and at last his life seems to make sense . . . until, soon after, the newly married couple's home is bombed, and Will awakes from the wreckage to find himself alone.
No one has heard of Elsa Klein. They say he was never married.
Seventy years later, Laura is a social worker battling her way out of depression and off medication. Her new case is a strange, isolated old man whose house hasn't changed since the war. A man who insists his wife vanished many, many years before. Everyone thinks he's suffering dementia. But Laura begins to suspect otherwise . . .
Author Keith Stuart is back with another outstanding novel after the success of 'A Boy Made of Bricks' and 'Days of Wonder', which were also five star reads for me.
In the Frequency of Us, we meet elderly Will Emerson and young carer Laura who has been given the job of assessing Will, who lives alone, to see whether he has dementia and if he needs to go into a care home.
The book opens in 1942 with the road that Will and his wife Elsa live on being bombed and Will being injured. When he wakes there is no sign of Elsa or that she ever existed. Will is certain that he hadn't made her up but as the years go by he can find no proof that she really did exist, though at times he slips back into the past and goes in search or cries out for her.
Laura has some mental health issues brought on by issues with her father when she was a child. She suffers from depression and anxiety and is grateful to be given the job to assess Will, though she finds him a little scary and hard work at first.
As Laura listens to Will's stories about Elsa she is convinced that he couldn't be making her up and goes in search of the truth, but sometimes the truth is not what you expect it to be.
This was a book that I didn't want to put down. The story is told in the present and the past, between 1938 and 1942, leading up to the bombing of Bath, where Will lives. The plot has you second-guessing everything you think you know. One minute you are convinced Elsa was real, the next you are not so sure, could this be all in Will's head who suffered a breakdown and PTSD after the bombing?
The characters are realistic, flawed humans that are juggling and plodding on through life. Neither has had it easy. With Will sometimes living in the past and Laura still dealing with her past which is having a negative impact on her present.
Author Keith Stuart writes mental health issues as harsh and debilitating as they often truly are. He shows the true nature of what someone with them goes through, sometimes it isn't an easy read, but it is essential to the story.
I can't say much more without giving away some of the plot, but be prepared to be open about the world and try to make out what the title may mean.
A fabulous book and I can't wait to read Keith Stuart's future novels.
---
What did you think of 'The Frequency of Us'? Share your thoughts in the comment section below!
---
The above links are affiliate links. I receive a very small percentage from each item you purchase via these link, which is at no extra cost to you. If you are thinking about purchasing the book, please think about using one of the links. All money received goes back into the blog and helps to keep it running. Thank you.
Like us on Facebook – Tweet us on Twitter – Pin us on Pinterest