Without a Trace by Mari Hannah – Book Review
Without a Trace by Mari Hannah – Book Review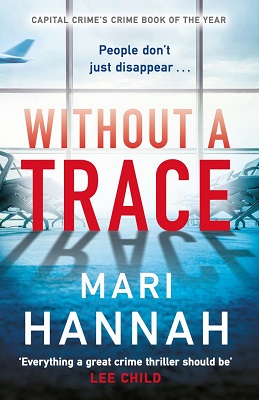 Without a Trace
DCI Kate Daniels Book Seven
Author – Mari Hannah
Publisher – Orion
Pages – 400
Released – 7th January 2021
ISBN-13 – 978-1409192374
Format – ebook, paperback, hardcover, audio
Rating – 4 Stars
I received a free copy of this book.
This post contains affiliate links.


Synopsis
A FATAL CRASH
A plane on route from London to New York City has disappeared out of the sky. This breaking news dominates every TV channel, every social media platform, and every waking hour of the Metropolitan Police and US Homeland Security.
A PRIVATE TRAGEDY
The love of DCI Kate Daniels' life was on that aircraft, but she has no authority to investigate. This major disaster is outside of her jurisdiction and she's ordered to walk away.
A SEARCH FOR THE TRUTH
But Kate can't let it lie. She has to find out what happened to that plane – even if it means going off book. No one is safe.
And there are some very dangerous people watching her…
Without a Trace is the seventh book in the DCI Kate Daniels series by Mari Hannah. I haven't read any of the previous books in the series, in fact, I haven't read any books by Ms. Hannah before. The plot was one that could be read as a standalone, though I don't know whether not having a previous encounter with Jo made me have no feelings towards the fact that she was missing.
Essentially flight 0113 – Boeing 777 Heathrow to JFK has vanished mid-flight, over the Atlantic ocean. Onboard are 302 passengers possibly including DCI Kate Daniels recently ex-girlfriend (a couple of days previously) and criminal profiler Jo, who had booked a ticket on the flight but Kate is convinced she wasn't on it.
I found the plot to be more focused on DCI Kate Daniels than on the actual events of a missing plane. She was only initially concerned with whether Jo was on the flight and finding evidence that she wasn't onboard, the fact that there were another 301 passengers, plus the crew didn't really seem to bother her, nor the reasons for the disappearance which I found a little strange. However, grief makes people do strange things and behave in ways they wouldn't normally.
There are a few twists in the book and it took some turns I wasn't expecting, so expect some misdirection's, I also wasn't expecting the reason for the missing plane to be what it was or how deadly the chase to find the truth would become. It certainly kept me on my toes, especially from about halfway through.
The storyline was different from what I was expecting but it was still enjoyable. I couldn't warm to Kate as she was quite dismissive of people and happy to use them to her advantage, she was hot-headed and it was her way or no way, but again I come back to my grief quote above. Having not read the previous books I can't say if she is usually like this. Though people are not all perfect and some are just like Kate.
I love a good police procedural thriller and I thoroughly enjoyed this one. I raced through it and read it in just two sittings. Whilst not all parts were fast-paced, a high portion of the book was. Plus the short chapters help heighten the tension.
---
What did you think of 'Without a Trace'? Share your thoughts in the comment section below!
---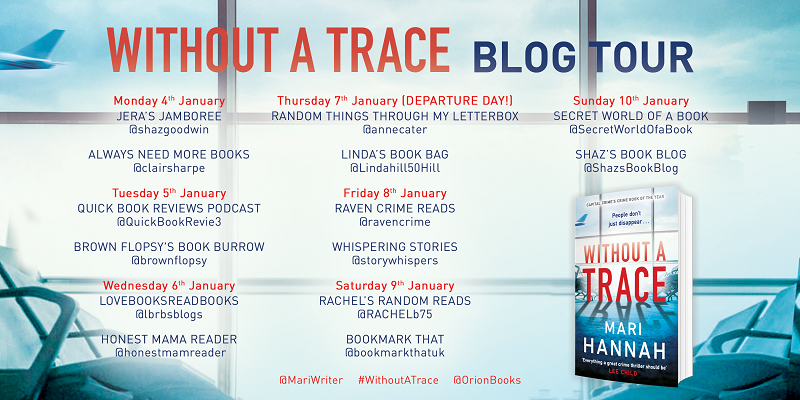 The above links are affiliate links. I receive a very small percentage from each item you purchase via these link, which is at no extra cost to you. If you are thinking about purchasing the book, please think about using one of the links. All money received goes back into the blog and helps to keep it running. Thank you.
Like us on Facebook – Tweet us on Twitter – Pin us on Pinterest