The Beach Café by Lucy Diamond – Book Review
The Beach Café by Lucy Diamond – Book Review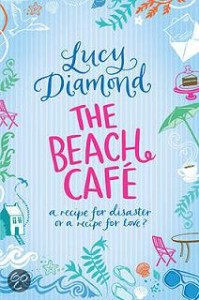 The Beach Café
Author – Lucy Diamond
Publisher – Pan
Pages – 496
Release Date – 3rd June 2011
Format – ebook, paperback, audio
Reviewer – Stacey
Rating – 4 Stars
Contains Affiliate Links

Evie Flynn has always been the black sheep of her family – a dreamer and a drifter, unlike her over-achieving elder sisters. She's tried making a name for herself as an actress, a photographer and a singer, but nothing has ever worked out. Now she's stuck in temp hell, with a sensible, pension-planning boyfriend. Somehow life seems to be passing her by.
Then her beloved aunt Jo dies suddenly in a car crash, leaving Evie an unusual legacy – her precious beach café in Cornwall. Determined to make a success of something for the first time in her life, Evie heads off to Cornwall to get the café and her life back on track – and gets more than she bargained for, both in work and in love . . .

Evie Flynn has always felt like the black sheep of her family, with two successful married sisters who both have children, Evie feels like she is a disappointment to her parents. Never being able to keep a steady job and moving from one temp job to another, stale relationship that is only held together by Saul, her boyfriend Matthew's son and no path in life, who can blame her.
When Evie's favourite Aunty Jo is tragically and suddenly killed in a car crash, Evie and her family are surprised to learn that Jo has left her beloved Beach Café down in Cornwall to her. All of her family believe she should sell it immediately, but Evie isn't sure she can part with it, not after it meant so much to her Aunt, and the idea of getting rid of something that she has so many fond memories of, spending time as a child holidaying there. With all that in mind, Evie decides that she is at least going to try running the café before making a decision about its future.
Moving down to Cornwall, she has a lot to learn about running a business, including dealing with the staff and the locals who have a great animosity towards her. Can she learn to settle down in one place long enough to turn the café in to a thriving business once again?
From the outset, I found the story a little slow to get going. The first few chapters I had to persevere through if I was going to read the whole book, and I'm glad that I did. It emerged that without the slow opening, the plot wouldn't of been able to be pulled together to create this fantastic book.
It is a perfect example of what Chick-Lit is, feel good factor that is easy to read. The plot is a little predictable, but this didn't stop me from wanting to carry on. I suppose I wanted to see if my predictions were right and the beautiful way the story is written kept me on course.
The book contains many characters from various generations, each with their own personality which brought depth and a natural flow to the story. The beach side scenes of this glorious county bring a warmth to the book. The background is vividly described which helps you to visualise all that the beaches in Cornwall have to offer, just as if you are sat there yourself.
Evie can come across as annoying and spineless at times and at periods throughout the book I just wanted to scream at her, but she makes up for it with her adorable, funny, witty demeanour to make you see past her flaws, but hey, what girl doesn't have her flaws!
If you're after an easy read book to take on your holiday with you for some light reading whilst lying on the beach, or just wanting to brighten up your day, then The Beach Café is the book for you.
Book Reviewed by Stacey
Purchase Link
---