The Christmas Party by Carole Matthews – Book Review
The Christmas Party by Carole Matthews – Book Review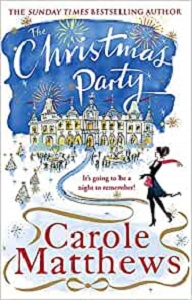 The Christmas Party
Author – Carole Matthews
Publisher – Sphere
Pages – 448
Release Date – 23rd October 2014
ISBN – 978-0751552164
Format – ebook, paperback, hardcover, audio
Reviewer – Stacey
Rating – 4 Stars
Contains Affiliate Links

Louise Young is a devoted single mother whose only priority is providing for her daughter, Mia. Louise has a good job in a huge international corporation and she's grateful for it. The only problem is her boss who can't keep his hands to himself, but Louise can handle him. What she really doesn't have time for is romance – until she meets the company's rising star, Josh Wallace.
Louise usually says no to evenings out but she's decided to let her hair down tonight. It's the office Christmas party, she has a pretty dress to wear and she's looking forward to some champagne and fun. She's completely unaware that others around her are too busy playing dangerous games to enjoy the party – until she's pulled into those games herself . . .
Romance is in the air and secrets are about to be uncovered. It's going to be a night to remember at The Christmas Party.

Meet Louise Young, the new PA working for the international oil company 'Fossil Oil'. Her boss is the slimy, hand-wandering Tyler Benson, the company's golden boy. Tyler is used to getting what he wants and that usually means that his PA's bend over backwards for him, literally. But not Louise. She has sworn off all men since her now, ex-boyfriend upped and left, leaving her homeless, in a huge amount of debt and with a young daughter, Mia, to support. Anyhow, even if Tyler was the last man on Earth, she would turn him down.
Kristen, Tyler Benson's wife, knows all about his extra marital affairs. Can he be playing away again and if so will this be the last straw for Kristen?
Josh Wallace is the up and coming star of 'Fossil Oil'. He is the complete opposite of Tyler and has his eye on Louise, but are his good looks and charming personality enough to change her opinion of men?
Lance Harvey, the company chairman is more focused on his job and drinking than his own family. His grown up sons don't have anything to do with him and his wife is at the end of her tether. To the outside world they have the perfect marriage, but can Melissa keep on putting up with Harvey, especially when he gets so intoxicated at the Christmas party it leaves him falling off his chair and unable to stand up?
With the free drinks flowing and everyone in a merry mood, what will happen if all of the secrets, lies and deceptions are revealed?
The Christmas Party starts off on the 23rd December and the first few chapters are quite slow as we are introduced to the characters, of which there are many. The main part of the story surrounds the Christmas office party. With the story mainly focusing on just a few hours.
I was a bit dubious about how Carole would keep the pace and interest going. I shouldn't have been though as with all the twist, turns, unexpected events and action that takes place in those few hours, there was enough to keep the story moving along and the keep reader interested.
The story is told from different characters' perspectives and for me this is normally one of my bugbears about a book. I prefer for the story to either stick to the one, or at a push, two peoples accounts. With 'The Christmas Party' though, if we didn't have the perspective of different people, the story wouldn't work. One person wouldn't know all the goings on in other peoples lives and there is a lot going on with each of the characters in the book.
Vividly written scenes and narrative help the readers to imagine the atmosphere at the party, together with the feelings and emotions that are transmitted by each of the characters, especially the women who have a rawness and resentment running through them.
The Christmas Party is more than just about an office party. It's about how different people cope in varying situations and about how those that are supposed to love you the most can be the ones that hurt you the most. It's full of romance, sadness, hurt, humiliation and heartache alongside lots of funny moments that will have you laughing along.
The saying 'what doesn't kill you makes you stronger' is certainly a phrase that would sum up the women in this book.
A festive read that you will enjoy at any time of the year.
Book reviewed by Stacey
Purchase Links
---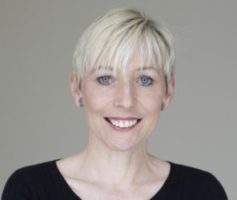 Hello! I'm a writer of romantic comedy, drinker of champagne, baker of cakes and eater of chocolate. I live in the Costa del Milton Keynes with my dearly beloved, Lovely Kev, in a minimalist home with no carpets, curtains or ornaments. I like walking, dancing, Zumba, movies and watching rubbish telly.