Some Day I'll Find You by Richard Madeley – Book Review
Some Day I'll Find You by Richard Madeley – Book Review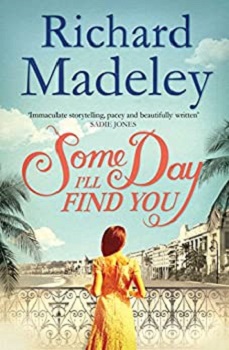 Some Day I'll Find You
Author – Richard Madeley
Publisher – Simon & Schuster
Pages – 416
Release Date – 4th July 2013
Format – ebook, paperback, hardcover, audio
Reviewer – Stacey
Rating – 3 Stars
Contains Affiliate Links

James Blackwell is sexy and handsome and a fighter pilot – every girl's dream partner. At least that is what Diana Arnold thinks when her brother first introduces them. Before long they are in love and marry hastily just as war is declared.
Then fate delivers what is the first of its cruel twists: James, the day of their wedding, is shot down over Northern France and killed. Diana is left not only a widow but pregnant with their child.
Ten years later, contentedly remarried, Diana finds herself in the south of France, sitting one morning in a sunny village square. A taxi draws up and she hears the voice of a man speaking English – the unmistakable voice of someone who will set out to torment her and blackmail her and from whom there can be only one means of escape…

Split into two sections, with section one being set at the start of World War Two, Diana Arnold is introduced to the man of her dreams, James Blackwell, a fighter pilot, by her brother John. The two quickly fall in love and not long afterwards they are married. On the day of their marriage, James is called back to the RAF as he is needed. During an air battle, James's plane is shot down over France and he is presumed dead, leaving Diana widowed and pregnant on their wedding day.
Section two, 10 years later, Diana, now remarried is living in Nice, France with her daughter Stella. One sunny afternoon she is sat outside a café when she notices a taxi goes by. Inside the taxi she hears a man talking, the voice is very familiar and brings back so many memories. She is sure that the voice belongs to James, her deceased husband. Diana chases after the taxi but loses it in a sea of traffic. Determined to find the man, she will stop at nothing to see if it was James, even when no-one else believes her.
The story starts of quite slowly as we are introduced to the Arnold family and James. The first half is all about getting to know them and the back story for the second half. If I wasn't intrigued by the plot I might of given up a few chapters in, as I was getting slightly bored at this point.
I hung on and I am glad that I did. Section two really picks up in pace. We feel Diana's pain and anguish as she needs to find out who the man in the taxi is, even if it isn't James, she just needs to know. She is hurt deeply though when those closest two her won't believe her.
We are introduced to the man in question who has been made out to be a gangster and a psychopath, but unfortunately that image doesn't come across very well and he is more like a gangster want-to-be.
There were times when the story got a little boring, and then bam, the pace changes and I'm hooked again on the action and mysteries. Even with the boring bits and slow pace, I actually enjoyed the book.
This was Richard's first fictional novel and it does show in the writing, but the content of the story holds the book together very well. The story must have kept me intrigued though, as after reading this one I felt compelled to read the sequel 'The Way You Look Tonight'.
Book reviewed by Stacey
Purchase Links