A Batch Made in Heaven by Kate Harrison – Book Review
A Batch Made in Heaven by Kate Harrison – Book Review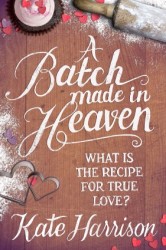 A Batch Made in Heaven
Author – Kate Harrison
Publisher – Orion
Pages – 296
Release Date – 15th January 2015
Format – ebook
Reviewer – Stacey
Rating – 5 Stars
Contains Affiliate Links

Is there a recipe for true love?
Becca Orchard believes the ingredients are science, psychology and faultless date planning. It's a formula that's made her one of the most successful match-makers in London.
Craft baker Adam Hill, is more interested in recipes for bread than love: at his Pudding Lane Bakery, in the heart of the City, he mixes old and new to create irresistible food, from Elizabethan Maids of Honour to flowerpot rolls.
But then Becca the Bride Hunter sets Adam up with one of her most awkward clients – and in the chaos that follows, she begins to wonder if she knows anything about finding the perfect match.

Rebecca Orchard is a country buff living in London with her Aunt Georgie and running her own professional 'match making' business.
Using the knowledge from her psychology degree, so far she has maintained a 100% track record at fixing up the right man with the right woman.
Now, she has taken on one of the most trickiest clients she has ever had, her first female client, the notorious, stubborn barrister, Sam Ottoway.
Liking to keep track of her clients, on their first date, she observes from a distance just so she can get a feel for the couple and whether they are suited to one another.
Whilst keeping tabs on Sam with her first date, Rebecca is approached by good looking and charming man, Adam Hill, who has been sent over by his friend to chat her up. Rebecca however only sees Adam as a potential date for Sam and arranges for the two of them to meet.
Something doesn't feel right though. Rebecca can't get Adam out of her head. But she has sworn never to mix business with pleasure, and anyway, she's not after a boyfriend, right?
Kate Harrison is extremely good at bringing together a variety of characters, all with varying personalities and making them work well together.
The story is mainly set in modern day London and it pans out amongst some of London's most famous landmarks, including a first date on the London Eye and speed dating, of sorts, at the Tower of London.
Rebecca is full of conflicting emotions, which are all presented so you can emphasis fully with her. She is a very warm character and one I found I liked quickly, even if she can't see romance when its staring her in the face.
Adam is the hottie of the book. He is a perfectionist baker and loves making lots of unusual cakes, including his flower pot cake.
I found myself engrossed and intrigued in the story as it contained lots of adorable characters and scenes, although there were few predicable moments amongst quite a few that I hadn't seconded guessed.
The pace of the book is just right and there is something to keep you hooked on ever page. The only negative that I have is that I wanted the ending to last that bit longer, just so I could find out what happened next.
I must applaud Kate, for once again giving her readers something to enjoy and feel good about. This is the perfect Chick-Lit novel. It had me hooked from cover to cover.
Book reviewed by Stacey
Purchase Link
---

Kate was born in north-west England, and moved home more than a dozen times as a child. Despite writing many 'novels' at school (including a four-part thriller set in Paris), her careers officer told her she'd never make a living from stories, so instead she became a journalist at the BBC, working on news and current affairs programmes including Newsround and Panorama.
In 2003, she proved her careers teacher wrong, and published her first novel, 'Old School Ties'. Since then, she's written more novels for adults (including The Secret Shopper series about undercover shopping, and The Boot Camp about extreme fitness!).
Her thriller series for teenagers, Soul Beach, is creepier and more chilling, with a murder mystery and a frightening website to be explored (www.soulbeach.org). Her latest ebook is A Batch Made in Heaven, a story of love, London and baked goods…
Author Links