Faster by MJ Howson & Alex Schuler – Book Review
Faster by MJ Howson & Alex Schuler – Book Review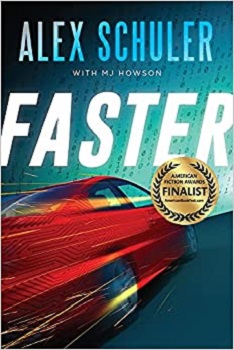 Faster
Author – MJ Howson & Alex Schuler
Publisher – Level 4 Press
Release Date – 31st July 2021
Pages – 336
ISBN 13 – 978-1933769844
Format – paperback
Star Rating – 5
I received a free copy of this book.
This post contains affiliate links.

Synopsis
Inspired by the incredible true story of three geniuses who changed the world.
Out in the sun-bleached sands of the Mojave Desert, a group of masterminds comes together to transform the way we drive. But can progress be made when a mercilessly tough engineer, a reckless mechanic, and a methodical programmer continuously clash over how to approach the solution?
In FASTER, explore the world of autonomous cars through this lens of conflict: Yin versus yang. Speed versus caution. Software versus hardware. Silicon Valley versus Detroit.
Ted Wolff is a gifted engineer with an ego to match. He can build just about anything but insists on doing things his way. "His way" means taking risks and cutting the occasional corner. He works in Nevada designing custom gear for desert racers, while his father insists he should be making cars at the GM plant back home in Ohio.
Unexpectedly, Gary "Rusty" Abrams recruits Ted to join his team at David Silver University (DSU). Their goal? Build a self-driving vehicle for a competition sponsored by DARPA (the Defense Advanced Research Projects Agency). It's an offer Ted can't refuse, so he signs on.
Rusty is determined to win the competition and stops at nothing to ensure the DSU entry comes out on top. They face stiff competition, though, from the Ashton University team led by Rusty's former protégé Vinod "Vin" Malik. Ashton may be the competition, but Ted quickly falls for their software expert, Sam—Samantha Lavoie—who's as smart as she is beautiful.
DSU narrowly wins the DARPA competition, and the future looks bright. But when Ted and Sam approach Detroit with a vision for producing self-driving cars, their patch falls completely flat. Triumphs and tragedy follow as life forces Ted to learn that slow and steady sometimes is the best way forward.
Faster is a book with many rich characters and a storyline that mimics real life in its complexity and unforeseen consequences. Ted can be as arrogant as he is brilliant, ignoring the goals and feelings of the people around him. Sam, on the other hand, is Ted's polar opposite, the ideal team player. But she's dragging along some baggage from her past that complicates their relationship.
Other characters are also rich and well-developed. Rusty, the ex-marine, is the epitome of the boss from hell, a martinet who considers himself superior to everyone and sees his team members as little more than machines. Lori, Henry, and Nico are the co-workers that anyone would enjoy working with, solid and dependable.
The story in Faster takes place over several years against the backdrop of the innovative technology of self-driving cars. The subtext of Ted and Sam's romance rests on that framework. The reader encounters triumph, tragedy, and despair throughout the pages. At the end of the day, it's a very human story with the technology of window-dressing.
Even if you're not into technology, you should enjoy Faster. I highly recommend this book.
---
Purchase Online:
---
The above links are affiliate links. I receive a very small percentage from each item you purchase via these links, which is at no extra cost to you. If you are thinking about purchasing the book, please think about using one of the links. All money received goes back into the blog and helps to keep it running. Thank you.