Fred and the Fantastic Tub Tub by Zeb Soanes – Book Review
Fred and the Fantastic Tub Tub by Zeb Soanes – Book Review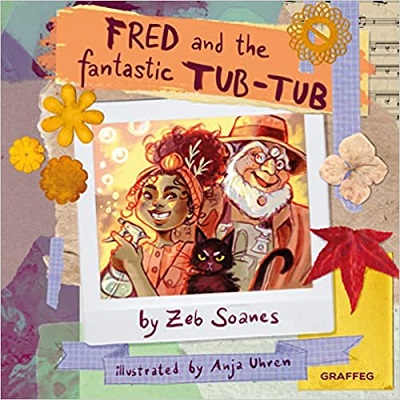 Fred and the Fantastic Tub Tub
Author – Zeb Soanes
Illustrator – Anja Uhren
Publisher – Graffeg Limited
Release Date – 10th March 2022
Pages – 48
ISBN 13 – 978-1802580808
Format – ebook, hardcover
Star Rating – 5
I received a free copy of this book.
This post contains affiliate links.

Synopsis
When Fred's green-fingered grandfather shows her a map to the mysterious island of Papa Nupi, he leads her on a summer holiday adventure that just might save the planet. From Zeb Soanes, author of the bestselling Gaspard the Fox books.
Fred and the Fantastic Tub-Tub is also an exciting orchestral concert work by James Marangone.
Fred and the Fantastic Tub Tub is a story all about climate change and pollution. Fred is a young girl who is staying with her grandfather for the summer holidays. Her grandfather is very green-fingered and all about trying to save the planet.
He tells her about a mysterious island called Papa Nupi in which a beautiful flower blooms and plays glorious music and he wants to go there and record it, so he has made a kind of air balloon for them to travel there in, though there is a lot of plastic rubbish on the island when they arrive.
The book was initially written as an orchestral piece and there is a QR code within that lets you hear the music. When I first saw the book I was expecting a children's picture book given the size and shape but there are a lot of words and it reads more like a young middle-grade story.
There are illustrations within that bring the story to life and at the back, there are things for children to do, such as write their own journal or find out about plastic waste.
This is a lovely book that talks about climate change, etc within a fabulous adventure story and has the added bonus of you being able to listen to the music from it too.
---
Purchase Online:
Zeb Soanes

Zeb Soanes grew up in the seaside town of Lowestoft, surrounded by animals. He now lives in London and, aside from writing books, is a trusted newsreader and reassuring voice of the Shipping Forecast to millions of listeners on BBC Radio 4. Sunday Times readers voted him their favourite male voice on UK radio. On television he launched BBC Four where he presented the BBC Proms. Each September the Last Night of the Proms attracts over 40,000 people to an open air concert in Hyde Park, which inspired his latest book.
He studied Drama and Creative Writing at UEA and has written for The Observer, Country Life and The Literary Review. His first book in the Gaspard series, inspired by his remarkable encounters with a real urban fox, attracted praise for representing foxes more sympathetically than their sly literary predecessors, for which the Mammal Society made him their first patron.
He narrates favourite works for children with the UK's leading orchestras, including Peter and the Wolf, Babar the Elephant and Paddington. In this tradition, Gaspard's Foxtrot has been adapted by the British composer Jonathan Dove and will be touring the UK in 2021.
Author Links:
---
The above links are affiliate links. I receive a very small percentage from each item you purchase via these links, which is at no extra cost to you. If you are thinking about purchasing the book, please think about using one of the links. All money received goes back into the blog and helps to keep it running. Thank you.