The Hounds of Hell by J.W Coleman – Book Review
The Hounds of Hell by J.W Coleman – Book Review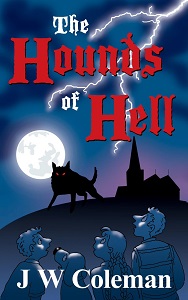 The Hounds of Hell
Author – J.W Coleman
Pages – 17
Release Date – 30th August 2015
Format – ebook
Reviewer – Stacey
I received a free copy of this book
Post Contains Affiliate Links

A dark, stormy night; a deserted graveyard; an evil ghost and strange goings-on in the church itself – what have Jamie, Roger, Sarah and Lucky, the Beagle, got themselves into, this time, as they investigate a legend about the evil squire, Richard Cabell?
Will they make it back to safety and school? Follow their adventures…

'The Hounds of Hell', sees the characters from 'Searching for Treasure Island' return in a new adventure.
Jamie, Roger, Sarah and Lucky the Beagle are this time investigating the legend that the 'Hounds of Hell' lives outside the church at the top of the hill, in a tomb with metal bars.
The legend is that if you go up to the church on a stormy night and walk around the tomb thirteen times, then stick your hands through the metal bars, your hand will be bitten off by the 'Hounds of Hell'
The kids sneak out to see if the legend is true, but will they end up facing more than just an animal in a tomb?
The story is a take on the Sherlock Holmes novel 'The Hound of the Baskervilles'. It would be perfect for children between the ages of 7-10, especially those who love a bit of spookiness.
There is lots going on in every chapter and it has just the right amount of action. The characters are written in such detail that you can't help but like them, and with perfectly described scenery, kids will feel like they are there watching the story play out.
Although the characters have already appeared in one story, you don't need to have read the first book to understand this one, as it works as a stand-alone book just as well.
The Hounds of Hell is a fun book that will intrigue and captivate its audience.
Book reviewed by Stacey
Purchase Links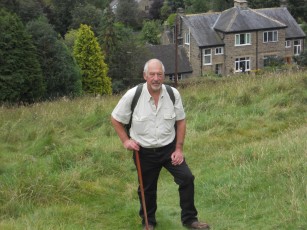 John grew up on the edge of Dartmoor with a taste for adventure. Widely travelled, he served as a soldier and worked for various organisations in the Middle East. Subsequently, he lived in London, forging a career in a TV News Agency until retiring to the Norfolk countryside with his wife several years ago.
His interests include walking, writing and photography.
You can find out more about J.W Coleman by reading our interview:- 'The Writing Life of: J.W Coleman'
Author Links