The King of Average by Gary Schwartz – Book Review
The King of Average by Gary Schwartz – Book Review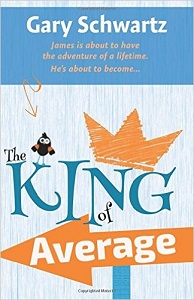 The King of Average
Author – Gary Schwartz
Publisher – Updrift
Pages – 355
Release Date – 6th October 2015
Format – ebook, paperback, hardcover
Reviewer – Julie
I received a free copy of this book
Post Contains Affiliate Links

James isn't the world's greatest kid, but he's not the worst, either: he's average! When he decides to become the most average kid who ever lived, James is transported to another world where he meets Mayor Culpa, a well-dressed talking Scapegoat who recruits him to become the new King of Average.
He's joined on his quest by a professional Optimist and his grouchy companion, an equally professional Pessimist. Together, they set out on a journey of self-discovery that leads them all the way from the Sea of Doubt to Mount Impossible, the highest peak in the Unattainable Mountains. When James stumbles into a Shangri-la called Epiphany, he uncovers the secret of who he really is.
Follow James on his hilarious, adventure-packed journey to find self-worth in this heartfelt middle grade novel.

I wasn't sure I was qualified to review a story predominantly aimed at children, so I found three people who fitted the criteria and we read the book together; so thank you to Noah, Alistair and Ralph for their input.
The story is funny, engaging and imaginative and the characters intriguing. Scapegoat's appearance was a real talking point for the boys and we all loved the concept of Roget the optimist and Kiljoy the pessimist. I particularly liked the wonderful play on words running throughout the book and commend the author for their inclusion as these touches made the book entertaining for adult readers.
I was impressed that Schwartz had weaved such an entertaining plot into his fantasy novel as a backdrop for his characters. The eclectic band of friends travelled through an imaginary land, collecting others on their way and having a variety of fascinating adventures.
The boys latched onto the idea of one character 'smelling of old gym socks' and thought this hilarious. The story culminated with a well-constructed conclusion, which satisfied James, his friends and indeed the readers.
The writing style was fluent and evenly-paced and the descriptive passages conjured up vivid pictures for the boys and at times they were particularly concerned for the well being of Mayor Culpa who continually tries to take the blame for everything. Evoking that reaction was, I imagine, exactly what the author intended.
Whilst the book is extremely amusing at all levels, there are also the underlying themes of self-discovery and self-worth which I think will resonate with adults and older children.
I fell in love with 'The King of Average' immediately, as did the boys. The wonderful disclaimer at the beginning of the book which states that anyone who objects to typos shouldn't bother reading it, made me laugh out loud.
This is a great story and I strongly recommend it as an ideal bonding-read for parents with children of seven and over.
I congratulate Gary Schwartz on his début novel The King of Average. He is a consummate professional with a great future as an author and I have no hesitation in awarding a very richly-deserved five stars.
Book Reviewed by Julie
Purchase Links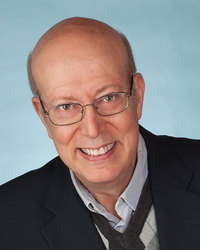 Gary Schwartz began his professional career as a mime at age 13, performing up and down the Hudson River with Pete Seeger and the great folk entertainers of the 1960s.
In the 1980s he appeared in numerous film and television projects including the Oscar-winning feature film Quest for Fire. Schwartz has lent his voice to hundreds of film and TV projects and is the voice of several well-known video game characters, including Heavy Weapons Guy and Demoman in Team Fortress 2.
Schwartz has written for two children's television series in which he co-starred: Zoobilee Zoo, where he played Bravo Fox; and the Disney Channel's You and Me, Kid.
Schwartz studied with and became the protégé of Viola Spolin, the creator of Theater Games, the basis for improvisational theater in America. He is a passionate, dynamic improv coach and facilitator devoted to carrying on Spolin's techniques.
You can find out more about Gary in our interview – 'The Writing Life of: Gary Schwartz'
Author Links
www.gary-schwartz.com
Gary's Acting Blog
Pinterest
Goodreads