Tony Taylor and Summer with Grandpa by B.C Mullins – Book Review
Tony Taylor and Summer with Grandpa by B.C Mullins – Book Review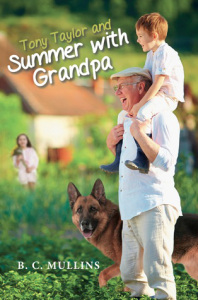 Tony Taylor and Summer with Grandpa
Tony Taylor Book One
Author – B.C Mullins
Publisher – Book Baby
Pages – 33
Release Date – 20th November 2015
Format – ebook, paperback
Reviewer – Stacey
I received a free copy of this book
Post Contains Affiliate Links

In this charming chapter book for early readers, Tony Taylor leaves behind the bright lights of New York City to visit his grandparents on their farm in rural Maryland for the summer.
Tony enjoys having plenty of room to run and play. He goes fishing and hiking, and spends time doing chores with his grandfather. And he is accompanied almost everywhere he goes by his grandparent's dog, Skippy, his faithful companion.
Tony loves the farm and he loves his grandparents. But more than that, Tony knows that there are magical adventures to be had on the farm. On this visit he meets a mysterious girl who gives him an odd gift. Who is she and where did she come from? Join Tony for fun and adventure and find out today!

Tony is stopping with his Grandpa and Grandma's, on their farm in Maryland for the holidays, whilst his mum is at work.
Tony loves being on the farm as it's completely different from his home in New York. He also loves playing with Skippy, the family's pet Alsatian, who just adores Tony too.
Whilst stopping at his Grandparents' house, Tony goes fishing and catches that night's supper, as well as helping out his Grandpa varnish the wooden picnic tables that his Grandpa had built. He also likes baking cookies with his Grandma, but his favourite thing to do, is to walk along the stream with Skippy, looking for insects etc. He is OK doing this, as long as he stays within sight of the house.
One day he wanders a little further than he should have. He eventually wanders into a field of flowers, which are being picked by a young girl called Cora. The two spend the afternoon playing together, and arrange to meet up again.
When he returns home, he tells his Grandparents about the young girl, but his grandparents don't know of any young girls in the village, and are mystified by her. Who really is Cora, and why is she on the farmland?
'Tony Taylor and Summer with Grandpa' is a charming children's book about a young boy spending time with his Grandparents.
The book is well paced and the chapters are quite short, so child readers don't become too overwhelmed. There is enough action and eventful moments to keep the interest within the pages.
The characters were impressively written and I could have been right there on the farm with the family, as the descriptions were written in that much detail.
When Tony met Cora, I knew something wasn't right, but I never actually expected the ending.
Tony Taylor and Summer with Grandpa is the first book in the 'Tony Taylor' series, and I actually can't wait to read the others!
A fantastic début that B.C. Mullins should be proud of.
Book reviewed by Stacey
Purchase Links


I'm a widow, the mother of two grown sons, and live in Maryland with them and my two dogs, a corgi-mix and a Jack Russell terrier-mix. I love children and animals, dollhouse miniatures, crafts, reading, travel, bicycling, and new adventures.
Life is always an adventure no matter where you are – even if you never leave home!
Author Link