The Sorry Sticks by Bryony Supper – Book Review
The Sorry Sticks by Bryony Supper – Book Review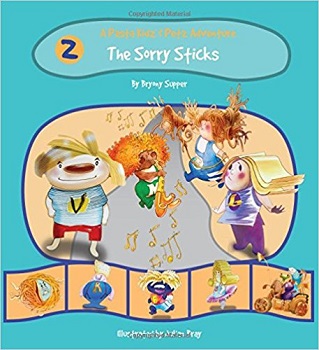 The Sorry Sticks
Author – Byrony Supper
Publisher – Matador
Pages – 24
Release Date – 22nd March 2017
ISBN-13 – 978-1788033626
Format – paperback
Reviewer – Stacey
I received a free copy of this book
Post Contains Affiliate Links

In The Sorry Sticks, the second Pasta KidzTM adventure in a series of up to forty books, Victor Vermicelli and Val the Vermicelli Snake have been speeding in a No Snake Lane. When The Big Ticket arrives to tell them off, they call on the Pasta Petz and the Sorry Sticks to help them. After they have shown that they re really very sorry, The Pasta Kidz and Petz celebrate with a Pasta Parade, full of wonderful music from their pasta instruments.
Every highly-branded Pasta KidzTM and PetzTM story, illustrated in beautiful, full-colour detail, contains a moral message and will both inform and entertain young readers. The plots and messages reinforce how the Kidz are unique, with different personalities and their own needs. Each tale shows how they help each other, usually with their own individual pet, and throughout the series we see how their personalities and friendships develop especially when encountering new characters, like the wicked and huge Pasta Beasties!

The Pasta Kidz and Petz are back in book two, after their adventures in 'The Inventing Tubes', book one. There are twelve books planned in the series.
In this story, Victor Vermicelli, and Val the Vermicelli Snake, have been caught speeding in 'No Snake Lane', by Big Ticket. The pair now have to show Big Ticket how sorry they really are for speeding.
I like the Pasta Kidz and Petz books. They are fun, engaging, have great characters, and the books are exquisitely drawn with beautiful images throughout.
The Sorry Sticks, is all about understanding when you have done wrong, and how you can say you're sorry in different ways. The Pasta Kidz and Petz decided on a parade for Big Ticket, to show him they are very sorry.
Each book in the series is about teaching children different aspects of life, in a way that gets them talking and asking questions. They are lovely books, and I look forward to reading the rest of the series.
Book Reviewed by Stacey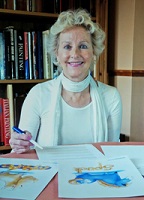 Bryony Supper trained as a professional actress at the Drama Studio, Ealing. From there she went into Rep, always playing comedy roles and has a wide range of experience from the 'Rocky Horror Show' to stand-up comedy and children's television – she was a regular on ITV's Gimmee Five with Ant and Dec, writing all her own material.
Now, using her natural talent for comedy, she has created the Pasta Kidz™ and Pasta Petz™ adventure stories for children aged between 4 and 7.
Author Links
www.pastakidz.co.uk
@ThePastaKidz
Facebook
Instagram
Pinterest
Goodreads