Hurricane Hound by Gia Lee – Book Review
Hurricane Hound by Gia Lee – Book Review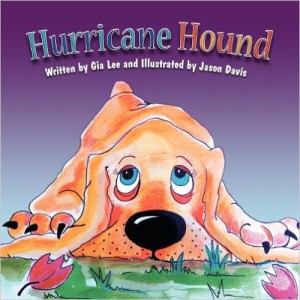 Hurricane Hound
Author – Gia Lee
Illustrator – Jason Davis
Publisher – America Star Books
Pages – 40
Release Date – 21st July 2011
Format – ebook, paperback
Reviewer – Stacey
I received a free copy of this book
Contains Affiliate Links

This is the story of Hanz, the hound dog.
Hanz was raised to be a hunting dog, but when he no longer wants to hunt, his cruel owner neglectfully chains him to a tree.
With a hurricane fast approaching and Hanz deserted by his former master, his fate lies in the capable hands of a lovely lady who has frequently seen Hanz tied to a tree while jogging. Will she take action to save him or just ignore his barks for help like many others who have also passed by him?
This is a children's picture book about the concepts of taking loving responsibility for your pets, while embracing their unique personalities, as well as about humanely helping out animals in need when possible.

Hurricane Hound is a children's book, that according to Amazon, is aimed at children between the ages of 6-8 years.
The book tells the story of Hanz, who is renamed 'Hurricane' the dog. Hurricane, used to be a very useful and clever hunting dog, but now he is older, he no longer wants to hunt. His owner has no use for him any more, and begins to mistreat him, and leave him tied up for long periods of time.
He is rescued by a lady jogger, who sees him tied to a tree, whilst she jogs past his house everyday. She takes him home and gives him the chance of a happy life once more.
The aim of the book is to teach children compassion and understanding; that animals have feelings, and to learn to look after them properly. This comes across very well in a not so formal way, but in a sweet story.
I do however have an issue with the book, and that comes back to my first sentence – the age that the book is aimed at. Looking at the plot and the illustrations, I would agree that the book is for children around the 6-8 age. Then I looked at the text and certain words and phrases that are in the book, and I find that to me, the vocabulary doesn't fit in to this age category.
There are phrases such as 'unresponsive wife', 'indifferent wife' and 'heard it on the grapevine'. Now these are not phrases I would expect a child to understand at that age. Now I do know, you can say that the book is opening up the children's vocabulary, but at that age, do they need to understand what an 'indifferent wife' is?
Gia has done amazingly well at creating a story that kids will enjoy. It's just the use of certain words that are throughout the book, that make me unable to give it 5 stars.
Book Reviewed by Stacey
Purchase Links