Her Hometown Redemption by Rachel Brimble – Book Review
Her Hometown Redemption by Rachel Brimble – Book Review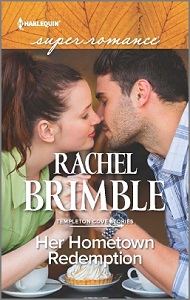 Her Hometown Redemption
Author – Rachel Brimble
Publisher – Harlequin Superromance
Pages – 256
Release Date – 1st September 2015
Format – ebook
Reviewer – Stacey
I received a free copy of this book
Contains Affiliate Links

She's back to right her wrongs.
When Tanya Todd returns to Templeton Cove, she knows better than to expect a warm welcome. She burned a few bridges on her way out of town, and making amends won't be easy. First on her list is the man whose heart she carelessly shattered, Liam Browne.
Seeing the successful criminal lawyer after all these years, Tanya is interested in more than just Liam's forgiveness.
As they work together to bring the man who hurt her sister to justice, the attraction between them sizzles. Suddenly Tanya's second chance could include a future with Liam…if she can prove she's changed.

Like a lot of people, I can remember the older generation of my family all owning Mills & Boon books, and I must admit, I've never been much of a fan. When I received the book and realised that this was part of the Mills & Book collection, I will admit my heart sank a little.
They say you should 'never judge a book by it's cover'. So I tried to think positively, but then I was dealt another blow. This is number 5 in a series that I hadn't even heard of, never mind having read the other books. Unsure as to how I would get through the book, I braced myself, ready to struggle through.
Now I am the first to admit when I am wrong, and my initial scepticism about this book was very wrong. Not only did I become hooked right from the first page, I found myself enjoying it; me, enjoying a Mills & Boon book, who would of thought! I also found the plot easy to follow as Rachel Brimble does give us some insight into the past, so I didn't necessarily need to have read the other books in the series first.
The plot was engrossing. I loved that the sweetness and joy of a romance book has been given an edgy and more 2015 makeover, with the undertone of a tragic and horrific crime committed years ago, and one woman's quest to bring the culprit to justice.
For me, Tanya's character bounced off the pages. I loved her upbeat attitude, even if I did know that it was mostly a front, and inside she was trying to hold herself together. For a woman to face a whole town of people who detest her, especially after the horrendous 8 years that she has had whilst she was away, showed how far she had come on her journey to 'find herself'.
The first meeting with her ex, Liam, was a bit more subdued that I predicted would happen, but then Liam is a lovely sweet man who has spent 8 years trying to get his life back, and learn to trust and love again. Just when he feels that he has made progress, bang, in walks a blast from the past.
The two of them, you realise very quickly are perfect for one another, and you just hope that they can find a way to put the past behind them and start again, but with both having trust issues, Liam with Tanya and Tanya with herself, the road to happiness isn't going to be straight forward.
Her Hometown Redemption is an amazing and engaging book, with a complex storyline. Add to that, well developed characters and lots of individual secondary characters, set in a beautiful backdrop and you have the perfect combination for a real page turner of a book.
Reviewed by Stacey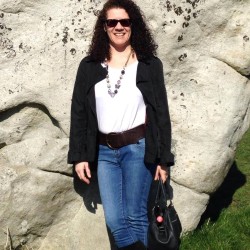 Rachel lives with her husband and two teenage daughters in a small town near Bath in the UK.
After having several novels published by small US presses, she secured agent representation in 2011. In 2012, she sold two books to Harlequin Superromance and a further three in 2013. She also writes Victorian romance for Kensington–her debut was released in April 2013, followed by a second in January 2014 and the third is released Jan 2015.
Rachel is a member of the Romantic Novelists Association and Romance Writers of America, and was selected to mentor the Superromance finalist of "So You Think You Can Write" 2014 contest.
When she isn't writing, you'll find Rachel with her head in a book or walking the beautiful English countryside with her family.
Her dream place to live is Bourton-on-the-Water in South West England.
Author Links