Little Deer and the Dragon by J. S. Betts – Book Review & Interview
Little Deer and the Dragon by J. S. Betts – Book Review & Interview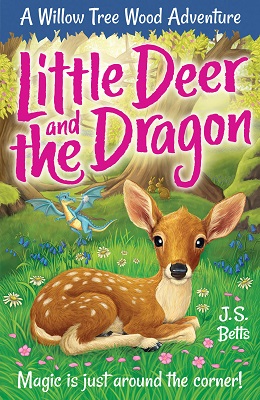 Little Deer and the Dragon
Willow Tree Wood Book Two
Author – J. S. Betts
Illustrator – Georgie Fearns
Publisher – Willow Tree Books
Pages – 104
Released – 1st March 2020
ISBN-13 – 978-1789583199
Format – paperback
Review by – Stacey
Rating – 4 Stars
I received a free copy of this book.
This post contains affiliate links.


Each time Molly and Tom visit Willow Tree Wood to stay with Grandma, they find themselves in adventures beyond their wildest dreams. After the wintery magic of book 1, Little Fox and the Fairy, Molly and Tom discover a baby deer left all on its own in the next adventure, Little Deer and the Dragon.
With the help of a small dragon, a magic potion, and a special wish, will the Willow Tree Wood Magic be strong enough to save the day?

Siblings Molly and Tom are visiting their Grandma who lives on the edge of Willow Tree Wood. After helping their Grandma in the garden the pair go off to explore and come across a baby deer sat in the woods all alone. They don't approach the deer but go and ask their Grandma what they should do. She tells them its mother will be back soon.
The next day though the deer is still sat there, this time though Bobby their Grandma's dog goes and sits with it. Leaving the dog to keep the deer company the children have a special errand to run for their Grandma to take the post that the postman can't get to her neighbour Wilbur as he lives down the road and through the trees where there isn't a path. Wilbur though isn't just their Grandma's neighbour he is a wizard too.
Little Deer and the Dragon is a very sweet children's book that includes a magical adventure featuring a wizard and a dragon. It is the second book in the Willow Tree Woods series but the first I have read. I can confirm it can be read as a standalone.
The children are both lovely and helpful. There Grandma is a very wise old lady. I enjoyed the plot and how it all tidied up nicely by the end. The font is quite large so perfect for new readers and there are beautiful illustrations throughout which children can look at to help them imagine the story and the characters in their heads whilst reading.
I can see there being more adventures for Molly and Tom to come and I can't wait to see where the next book will take them.
Book Reviewer – Stacey
---
Purchase online from:
---
Interview with J. S. Betts
What was your inspiration for Little Deer and the Dragon?
When I was young my dad took us to the woods nearly every weekend, so I suppose that was really my inspiration for the Willow Tree Wood series.
What was one of the most surprising things you learnt whilst writing the Willow Tree Wood series?
A surprising thing I've learnt about writing is that adding words is actually the easy bit. The tricky bit is getting rid of the unnecessary ones.
If you could describe the Willow Tree Wood series in three words, what would they be?
Animals, magic, adventure.
What do you think makes a good story?
I think a good story should draw different plotlines together in a satisfying way that answers some problems.
What was your favourite childhood story and why?
I really loved the Lord of the Rings and read it loads of times. Hobbits were such a great invention for young readers ­– almost like children, but they still get mixed up with proper danger and adventure.
Some writers have ideas in the strangest places. Where do you have your best ideas?
Walking or cycling on a nice, sunny day. Not that strange, but a good time to let your mind wander.
---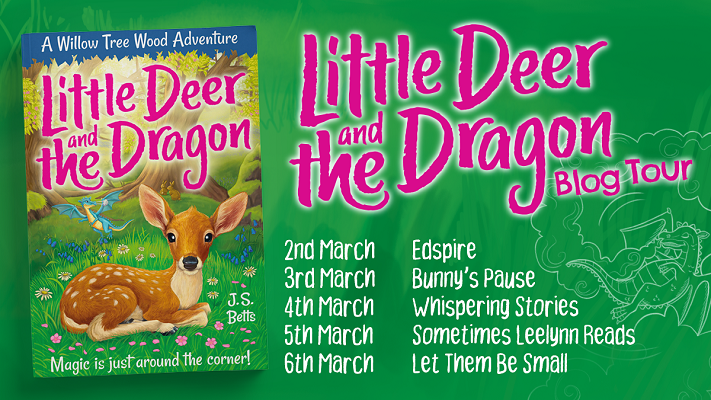 ---
What did you think of Little Deer and the Dragon? Share your thoughts in the comment section below!
---
The above links are affiliate links. I receive a very small percentage from each item you purchase via these link, which is at no extra cost to you. If you are thinking about purchasing the book, please think about using one of the links. All money received goes back into the blog and helps to keep it running. Thank you.
Like us on Facebook – Tweet us on Twitter – Pin us on Pinterest