Blue Penguin by Petr Horacek – Book Review
Blue Penguin by Petr Horacek – Book Review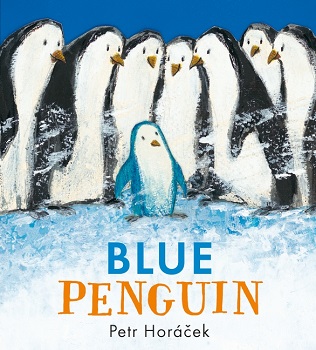 Blue Penguin
Author – Petr Horacek
Publisher – Walker Books
Pages – 32
Release Date – 3rd November 2016
ISBN-13 – 978-1406366013
Format – paperback, hardcover
Reviewer – Stacey
I received a free copy of this book
Post Contains Affiliate Links

A heart-warming fable about a friendship and belonging from the award-winning illustrator Petr Horacek. "I feel just like a penguin," says Blue Penguin. "But you're not like us," said the other penguins and they left him all alone.
Poor Blue Penguin. Will he be able to convince the other penguins he is one of them after all? A moving and beautifully illustrated story from Petr Horacek, an illustrator described by the Washington Post as "the thinking tot's Eric Carle".

Down in the south, a new penguin was born. But this penguin was slightly different to all the others, for he was born blue. The other penguins didn't know what to make of the penguin. He looked like them, dived and swam like them, but he was blue and white, not black and white like them, so they left him alone, and sad.
Every night the penguin would dream about a big whale coming to take him away from his lonely place. In the morning he would sing a song to the whale. Then another little penguin heard him sing and over time she made friends with the penguin. Then the other penguins heard his songs, and they wanted to be his friends too.
This book is the perfect tool to teach little children that although some people look slightly different, we are all humans, and no-one should be shunned for looking different.
The artistry is amazing, it can only be described as what looks like pastel drawings, which creates these beautiful, appealing pictures with an overtone of the biting antarctic winds.
Blue Penguin is a touching, inspirational story that would make the perfect bedtime story, or one for a teacher to read to their class.
Book Reviewed by Stacey
Purchase Links

We have also reviewed 'The Greedy Goat' by Petr Horacek.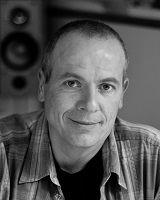 I was born on Thursday 30th June 1967 in Prague in Czechoslovakia. My childhood was great – I really enjoyed it.
When I was 15 I went to the High School of Art in Prague. It was good we did everything arty there – printing, photography, sculpture … and painting. Ok so it was school but I have good memories of it.
For 2 years from the age of 19 I worked at a state advertising and design agency. It was a joke. In communist Czechoslovakia there was nothing much to advertise or design. But the experience was fun and rather inspiring after all. I met interesting people and it was an interesting time.
Then I went to study at the Academy of Fine Art. I worked hard there for 6 years drawing and painting from morning to evening. In 1989 there was a revolution – and a student strike. Great fun! It was an exciting time which resulted in new studios at the Academy, new professors and new inspirations. An English girl, Claire arrived in our studio and we have been together ever since.
In 1994 I got my Master of Fine Art degree and moved to England permanently. Soon after, we got married and had two daughters – Tereza and Cecilia. When I became a dad I made my first book. Walker Books published 'Strawberries are Red' and 'What is Black and White' in 2001 and I received the Books For Children 'Newcomer 2001' award.
Since then I have had many books published. I love what I'm doing – it's fun!
Author Links