Once Upon a Northern Night by Jean E. Pendziwol – Book Review
Once Upon a Northern Night by Jean E. Pendziwol – Book Review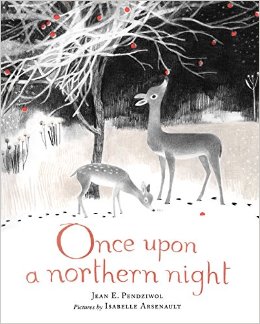 Once Upon a Northern Night
Author – Jean E. Pendziwol
Publisher – Walker Books
Pages – 32
Release Date – 3rd November 2016
ISBN-13 – 978-1406366006
Format – paperback, hardcover
Reviewer – Stacey
I received a free copy of this book
Post Contains Affiliate Links

In this bedtime lullaby beautifully brought to life by the award-winning Isabelle Arsenault, illustrator of Jane, the Fox, and Me, a northern night unfolds as a young child sleeps. Wrapped in a snug, downy blanket, a snowflake falls, and then another and another.
As the magic of the night outside takes hold – animals awaken, snow swirls, stars twinkle and winds whisper – a lyrical, enchanting read-aloud evokes a winter's night, while gently lulling a child to peaceful sleep.

"Once upon a northern night while you lay sleeping, wrapped in a downy blanket, I painted you a picture." This is the opening line. I ask that you keep these words with you to the very last page, as then you will understand the true meaning behind them.
As a little boy sleeps, outside there is a chill in the air, as the streets turn frosty and then snow falls. Covering the ground with it's own blanket, as well as the trees and bushes, the snow glitters and gleams under the street lights, creating that perfect untouched picture, ready for the little boy to enjoy when he awakes.
The book is gracefully illustrated, as it's darkened pictures actually light up the pages, and captivate their audience. The story is elegantly written, and a lot of thought has gone into the words to get them just right.
I loved the book. It is heart-warming, enjoyable and makes you understand the serenity, yet playfulness, that a snowy scene has, especially in children's eyes. A lovely book that you will enjoy as much as your child/grandchild etc will. I can see this book becoming a family favourite.
I would just like to say to Ms. Pendziwol – your sister would be so proud of what you have done for her, and I hope the children hold this Once Upon a Northern Night dear to their hearts.
Book Reviewed by Stacey
Purchase Links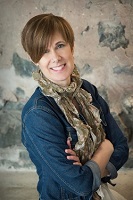 Jean E. Pendziwol is the author of eight published books. She was shortlisted for the Governor General's Award and the 2014 TD Canadian Children's Literature Award for Once Upon a Northern Night (Groundwood Books, 2013). Her children's books include the critically acclaimed No Dragons for Tea: Fire Safety for Kids (and Dragons) (Kids Can Press), which continues to be used as a valuable resource for teaching fire safety.
Her debut adult novel, The Light Keeper's Daughters will be published by HarperCollins in 2017. Jean's latest children's book, Me and You and the Red Canoe, (Groundwood Books) will also be released in 2017. She lives in the shadow of the Nor'Wester Mountains near Lake Superior and draws inspiration for her stories from the rich history, culture and geography of northwestern Ontario, Canada.
She has three adult children, a loveable mutt, and a coop of temperamental chickens, all occasionally tormented by visiting deer, foxes, wolves and bears.
Author Links