Christmas Under a Starlit Sky by Holly Martin – Book Review
Christmas Under a Starlit Sky by Holly Martin – Book Review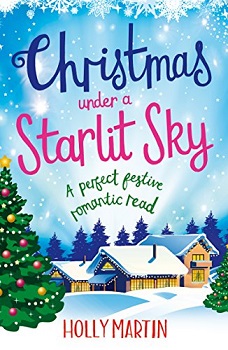 Christmas Under a Starlit Sky


A Town Called Christmas Book Two
Author – Holly Martin
Publisher – Bookouture
Pages – 302
Release Date – 19th October 2016
ISBN-13 – 978-1786810939
Format – ebook, paperback
Reviewer – Stacey
I received a free copy of this book
Post Contains Affiliate Links

Neve Whitaker loves managing the Stardust Lake hotel. She gets to work alongside her wonderful family and she's spending Christmas on the most enchanting, snow-covered island in Scotland. So why is her heart so heavy this festive season?
It might have something to do with the gorgeous actor Oakley Rey, the man she finished with before he left for California and the man she loves more than anything. With Oakley's career in Hollywood soaring, Neve is convinced she'd only hold him back. She had to end it with him – at least that's what she keeps telling herself.
But now she has a secret she's struggling to keep, and when Oakley arrives on Juniper Island determined to win her back, Neve is thrown off balance. Will Neve's fear of having her heart broken again push Oakley away for good, or is it time for her to take a leap of faith?

This is the second book in the 'A Town Called Christmas' series. The book continues directly on from where book one, Christmas Under a Cranberry Sky, ended.
This time the book focuses on Neve (The sister of the main character from book one), and her ex-boyfriend actor, Oakley, although the book does have a romantic secondary plot running alongside between Adam, the temporary hotel manager, and villager, Ivy.
When Oakley flies to Juniper Island to spend time with Neve, even-though they have split up, it causes emotions to run high, as they both still love one another. The pair know that with Oakley's high-flying career, the relationship could never work, especially when the secret Neve has been keeping from him eventually comes out.
Can the two of them come up with a plan that will see them both happy, or are they destined to go their separate ways?
Once again Holly Martin has written a superb Christmas book, covering everything a heartfelt Christmas book should.
With complex, yet engaging characters, the book pulls at your heart strings, as well as gives you that uplifting smile, and the occasional giggle.
Featuring characters from the first book, it was lovely to meet up with them again, and carry on their stories, even if some of them only played minor roles in the book.
Christmas Under a Starlit Sky is more emotional than the first, and brings to the forefront the conflicts that people go through, and the sacrifices that sometimes need to be made in relationships.
The book is heart-warming, relaxing, and just the perfect reason to grab a mug of hot chocolate, put your feet up, and visit the delightful Juniper Island once again.
Book Reviewed by Stacey
Read the review for book one – Christmas Under a Cranberry Sky
Purchase Links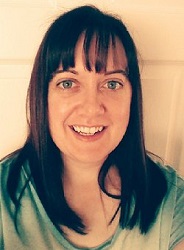 Holly lives in sunny Bedfordshire in a house with round windows. She studied media at university which led to a very glitzy career as a hotel receptionist followed by a even more glamorous two years working in a bank. The moment that one of her colleagues received the much coveted carriage clock for fifteen years' service was the moment when she knew she had to escape. She quit her job and returned to university to train to be a teacher.
Three years later, she emerged wide eyed and terrified that she now had responsibility for the development of thirty young minds. She taught for four years and then escaped the classroom to teach history workshops, dressing up as a Viking one day and an Egyptian High Priestess the next. But the long journeys around the UK and many hours sat on the M25 gave her a lot of time to plan out her stories and she now writes full time, doing what she loves.
Holly has been writing for 6 years. She was shortlisted for the New Talent Award at the Festival of Romance. Her short story won the Sunlounger competition and was published in the Sunlounger anthology. She won the Carina Valentine's competition at the Festival of Romance 2013 with her novel The Guestbook. She was shortlisted for Best Romantic Read, Best eBook and Innovation in Romantic Fiction at the Festival of Romance 2014.
Author Links
www.hollymartinwriter.wordpress.com
@hollymartin00
Goodreads