Christmas Under a Cranberry Sky by Holly Martin – Book Review
Christmas Under a Cranberry Sky by Holly Martin – Book Review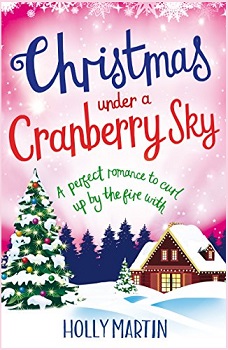 Christmas Under a Cranberry Sky


A Town Called Christmas Book One
Author – Holly Martin
Publisher – Bookouture
Pages – 322
Release Date – 22nd September 2016
ISBN 13 – 978-1786810717
Format – ebook, paperback
Reviewer – Stacey
I received a free copy of this book
Post Contains Affiliate Links

This year spend a wonderful Christmas on Juniper Island, where love can melt even the iciest of hearts…
Piper Chesterfield lives a glamorous life travelling the world and reviewing the finest hotels. She calls nowhere home, she works alone and that's how she likes it. For long ago Piper decided that to protect her heart she should lock it away.
So when Piper's next assignment brings her to the newly opened Stardust Lake Hotel for the festive season, the last person she expects to face is Gabe Whitaker, the man who broke her heart so completely she could never love again.
But Piper isn't the only one who has been frozen in time by heartbreak. Gabe hasn't forgotten the golden-eyed girl who disappeared from his world without a trace.
Now fate has reunited them on Juniper island, can the magic of Christmas heal old wounds? And can this enchanting town be the one place Piper can finally call home?
Curl up with this gorgeously romantic tale and let the glistening snow and the roaring fires of Stardust Lake Hotel get you in the festive spirit this Christmas.

Christmas Under a Cranberry Sky is my first Christmas book this year, and it's going to be hard to beat. Now I can be a bit of a Bah Humbug at Christmas, and want it to be over as soon as possible. What Holly has managed to do, is put me completely in the mood for the upcoming season.
Piper Chesterfield (Pip) had the most horrendous of childhoods, and has a fear of rejection. When, after a devastating experience she seeks help from the love of her life, she sees him embracing another woman, and fears the worst. Feeling rejected once again, she disappears, never to be seen or heard of again. That is until she accepts a job of secretly reviewing a new holiday complex in the Shetland Isles.
Gabe Whitaker has only ever loved one woman, and she wasn't even the mother of his daughter, Wren. His life is centred around his young daughter and his holiday complex that will be opening for the Christmas season soon, and doesn't want nor have time for romance, especially as he still feels the pain from losing his first love.
When Pip and Gabe come face to face, after 10 years, the two feel that spark immediately between them, but after the hurt that each of them felt, and the length of time that they have been apart, is it to late for them to start again, especially when neither of them wants to feel the pain that that they did once before?
For a book to make me feel Christmassy in October, it has to be special, and this book certainly is. It is magical. I felt like I was having an out of body experience every time I picked the book up, as I was transported to a freezing cold island, that had so much to offer, and made me feel like a child again, with it's ice castle and reindeer's, even the beautiful Christmas shops, where I could certainly spend a lot of money.
The characters are extremely likeable, including the secondary ones. I felt like I was meeting up with long-lost friends, and little Wren is mischievous at times, yet so adorable.
Holly's writing style has you hooked to this book, and I was eager to finish it to see what she had in store for Pip and Gabe, but I was also keen to take it slowly so that I could savour it that little bit longer. It was only once I had finished the book did I realise that Holly has written the second book in 'The Town Call Christmas' series and it is out on the 19th October – I can't wait.
If you are after a wonderful romance novel, or something to get you in the Christmas spirit, Christmas Under a Cranberry Sky will definitely not let you down.
Book Reviewed by Stacey
Purchase Links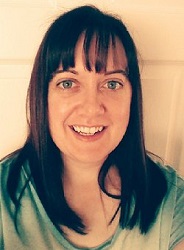 Holly lives in sunny Bedfordshire in a house with round windows. She studied media at university which led to a very glitzy career as a hotel receptionist followed by a even more glamorous two years working in a bank. The moment that one of her colleagues received the much coveted carriage clock for fifteen years' service was the moment when she knew she had to escape. She quit her job and returned to university to train to be a teacher.
Three years later, she emerged wide eyed and terrified that she now had responsibility for the development of thirty young minds. She taught for four years and then escaped the classroom to teach history workshops, dressing up as a Viking one day and an Egyptian High Priestess the next. But the long journeys around the UK and many hours sat on the M25 gave her a lot of time to plan out her stories and she now writes full time, doing what she loves.
Holly has been writing for 6 years. She was shortlisted for the New Talent Award at the Festival of Romance. Her short story won the Sunlounger competition and was published in the Sunlounger anthology. She won the Carina Valentine's competition at the Festival of Romance 2013 with her novel The Guestbook. She was shortlisted for Best Romantic Read, Best eBook and Innovation in Romantic Fiction at the Festival of Romance 2014.
Author Links
www.hollymartin-author.com
@hollymartin00
Facebook
Goodreads