Serpent's Doom by Connie di Marco – Book Review
Serpent's Doom by Connie di Marco – Book Review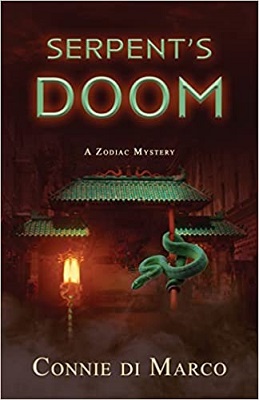 Serpent's Doom
Author – Connie di Marco
Publisher – Suspense Publishing
Release Date – 26th April 2022
Pages – 294
ISBN 13 – 978-0578326566
Format – ebook, paperback
Star Rating – 4
I received a free copy of this book.
This post contains affiliate links.

Synopsis
As San Francisco's Chinatown prepares for the Lunar New Year festivities in the fogbound month of February, astrologer Julia Bonatti finds herself with three new clients, all in desperate straits who don't seem to heed her advice. Tracy is the victim of a brutal husband with nowhere to run and Jeanette is worried sick about her son, whom she suspects has fallen in with a bad lot.
But most frightening of all to Julia is Frankie Chang's dilemma. Frankie's only eleven years old and he's terrified. His mother is missing and no one will help him. Julia's heart goes out to him but her hands are tied. Frankie won't let her talk to the police and neither will his family.
Julia eventually discovers that the three worlds of her clients intertwine. Those lives inevitably collide exposing a dangerous smuggling cabal. Julia knows too much and becomes a victim of both a ruthless environmental group and criminals who will stop at nothing, including murder.
Connie di Marco's novel, Serpent's Doom, starts with Julia Bonatti seeing 11-year-old Frankie Chang on the sidewalk looking through the plate glass front window on Mystic Eye. A crowded psychic fair was in progress. Julia does astrological readings. Her good friend, Gale, owns the occult bookshop and their friend, Cheryl manages it.
Julia had a reading with an abused wife, Tracy Whyler, who ran away from Julia rather than agreeing to call the police. The next day, Julia does a reading in her apartment for Jeanette who is worried about her 25-year-old son Billy who is getting in with bad people. Then Julia does a reading for the Chang boy who is concerned about his mother who has been missing for three days. A large portion of the novel is trying to solve the mystery of the missing mother. All of these characters are expertly tied together.
Occult is not my genre, and I was slightly misled by the book's title. However, the plot is expertly developed and quite informative on astrology. I highly recommend this novel. The great characters are well developed, and the overhanging threat of peril makes the book very hard to put down. Due to the occult theme, I rank the book only 4 stars out of 5. I believe that most astrology enthusiasts would rank it 5.
---
Purchase Online:
Connie di Marco

With the Zodiac Mysteries, featuring Julia Bonatti, a crime-solving San Francisco astrologer, Connie di Marco has combined her fascination with astrology and her love of writing mysteries. Writing as Connie Archer, she's also the national bestselling author of the Soup Lover's Mysteries from Berkley Prime Crime. You can find her excerpts and recipes in The Cozy Cookbook and The Mystery Writers of America Cookbook.
She is a member of International Thriller Writers, Mystery Writers of America and Sisters in Crime. She lives in Los Angeles but dreams constantly of San Francisco fog.
Author Links:
---
The above links are affiliate links. I receive a very small percentage from each item you purchase via these links, which is at no extra cost to you. If you are thinking about purchasing the book, please think about using one of the links. All money received goes back into the blog and helps to keep it running. Thank you.