The Treasure Under the Jam Factory by Chrissie Sains – Book Review
The Treasure Under the Jam Factory by Chrissie Sains – Book Review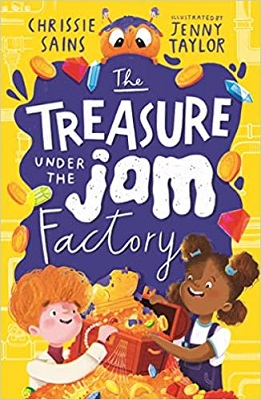 The Treasure Under the Jam Factory
Author – Chrissie Sains
Illustrator – Jenny Taylor
Publisher – Walker Books
Release Date – 7th April 2022
Pages – 224
ISBN 13 – 978-1406396140
Format – ebook, paperback, audio
Star Rating – 4
I received a free copy of this book.
This post contains affiliate links.

Synopsis
The second hilarious adventure starring Scooter the inventor and his top secret alien sidekick.
Scooter's hyper-creative brain is a constant fizz of brilliant ideas, but when he pairs up with his best friend Fizzbee the alien, his inventions are out of this world…
McLay's Jam factory is scheduled for a Grand Re-Opening TONIGHT. That is until Scooter's nemesis Daffy Dodgy turns up to reveal her name is still on the deeds. Scooter must either hand over all his best ideas, or find the money to buy back the factory. When Cat Pincher turns up with a treasure map, revealing there's a hoard of treasure buried under the jam factory, it seems like Scooter's in with a chance.
But he's not the only one after the treasure…
Can Scooter, Fizzbee and Cat follow the map and find the treasure? Will Daffy and Boris the guinea pig do what they do best and mess everything up? Or will Cat's nefarious uncle, Perry Pincher and his gold-sniffing ferret Colonel Pom Pom beat them all to it?
The Treasure Under the Jam Factory is an amusing middle-grade story about a boy who lives in a Jam factory called Scooter with his parents and his friend who happens to be an alien – Fizzbee.
This is the second book in a series and to be honest, if you want to follow the story entirely you do need to have read the first book. In this second part, the jam factory has expanded into the Dodgy Doughnuts factory next door, however on the cusp of a grand opening for all the local villages the previous owner of the doughnuts factory returns and declares that it is hers still.
Also, Scooter's uncle and his ferret have found a map that shows that there is hidden treasure under the factory. Will the factory get its grand opening? Will the treasure be found and by who? You'll have to read the book to find out.
The Treasure Under the Jam Factory was entertaining and I loved the illustrations throughout. The story is easy to read and will keep the reader interested from beginning to end. I was a little disappointed that the alien didn't feature as much as I had hoped but perhaps he did more in the first book.
Overall, I can see this being a series that middle-grade readers will enjoy and become invested in, especially with all the brilliant inventions and the laugh-out-loud scenes.
---
Purchase Online:
Chrissie Sains
Chrissie Sains grew up in Billericay, Essex, where she spent her childhood seeking adventure and finding trouble. Described by her teachers as having a "lively imagination", Chrissie's escapades include her attempted rescue of the school's pet fish and the discovery of a dead body in a field that turned out to be two tyres under a sheet.
She has swum with sharks, scuba-dived shipwrecks and sky-dived from a plane. Chrissie has a background in marketing and events but now writes full time and is a graduate of the Golden Egg Academy and a member of SCBWI. An Alien in the Jam Factory was her first book.
Author Links:
---
The above links are affiliate links. I receive a very small percentage from each item you purchase via these links, which is at no extra cost to you. If you are thinking about purchasing the book, please think about using one of the links. All money received goes back into the blog and helps to keep it running. Thank you.